As an employee, I can attest to the value of having a healthy work-life balance.

At one point in my life, I was working three different jobs. One 8am-4pm Mon- Fri, another in the evenings Mon-Thurs (often until 9:30pm), and one more that required weekend travel. I know...what was I thinking?

Needless to say I had a hard time getting anything outside of work done - doctors appointments, oil changes, going to the grocery, etc. I quickly became worn out and spoke with one of my supervisors about shifting my schedule to no longer work on Fridays.

And just like that, I had Fridays off. Thanks to my employer's care for me as an individual, I felt less stressed, healthier, happier and more productive at work.

Years later, after dropping traveling on weekends and cutting back a bit during the evenings, I asked about adding Fridays back into my schedule now that I had more time. And, poof, it was done. The flexibility my job offered was critical to maintaining a healthy work-life balance.
What Is Work-Life Balance? And Why Does It Matter?
So what do we actually mean when we talk about work-life balance? The BusinessDictionary defines it as "a comfortable state of equilibrium achieved between an employee's primary priorities of their employment position and their private lifestyle." It goes on to say that "Most psychologists would agree that the demands of an employee's career should not overwhelm the individual's ability to enjoy a satisfying personal life outside of the business environment."
At Access, we tend to agree with the professionals. Work-life balance isn't just important when it comes to your employees – it's essential. Without it, your business/organization is subject to workers who are less productive, unhappy, burned out, disloyal, disengaged… and the list goes on. When you don't offer a healthy work-life balance at the office, it's a lot harder to keep the employees you have and get new talent through the door.
Research suggests that around 47% of employees believe work affects their ability to spend time with family, and 72% take work home with them. This brings to mind the common phrase, "everything in moderation."
It's a well-known idea that holds true even for work, as too much can lead to burnout. One study says that nearly half of all workers feel burned out at the office, and many feel they can't stop working even on vacation. Plus, 95% of HR leaders admit burnout is hurting retention at their organizations, contributing up to one-half of annual workforce turnover. In fact, companies with moderate to severe burnout have a decrease in the likelihood of having highly engaged employees (376%), retention (87%), work output (22%), and perception of employee experience (41%).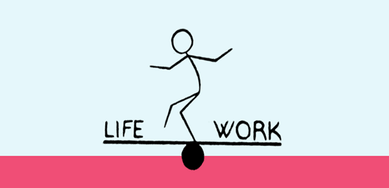 Not surprisingly, most people prefer to avoid reaching a point of burnout – in other words, they desire a healthy work-life balance. Data reveals that 53% of employees say a role that allows greater work-life balance and better personal well-being is important. When asked which work benefits they valued most, workers chose work-life balance.
It's clear that employees want, even crave a healthy work-life balance, and 39% of employees believe employers are responsible for creating it. One source says workers think employers should make efforts to change organizational culture to ensure a good work-life balance (37%), implement more policies supporting it (35%), and encourage staff to take advantage of existing policies to help with it.
Employees said one of the top concerns during their job search are the programs and benefits a company offers to help with work-life balance. And, 54% of career choices are motivated by seeking a healthy work-life balance.
It's undeniable that work cultures lacking a healthy work-life balance are at risk of losing valuable workers and higher difficulty recruiting new ones. Our advice – evaluate what you are currently doing to encourage, support and help employees live and work harmoniously. And if you find cracks in that foundation then put a plan in place of things you can do to get back on track, as workers who find balance between their job and personal lives are twice as happy, more productive and show greater loyalty to employers.
So How Well Do Employers Support Work-Life Balance?
Now that we've established workers do in fact cherish their ability to balance work and personal life in a healthy manor, the question becomes – do employers support employees in their need for work-life balance?
The evidence suggests there are quite a few employers that do help their employees achieve a satisfactory work-life balance, as 62% of workers agree their job offers enough flexibility to have a healthy work-life balance, 91% say their manager is supportive of their efforts to achieve a balance, and 74% believe their boss sets a good example.
And while this is great news, unfortunately the evidence also suggests there are employers that don't do a great job at making sure employees achieve a healthy work-life balance. Studies show that 45% of professionals feel their company does not promote a healthy work/life balance, and 34% are resentful towards their employer with regards to work-life balance.
It's obvious that some companies are hitting it out of the park when it comes to creating a culture of employee work-life balance. But it's also apparent that other organizations still need a little help reaching this same success.
3 of the MOST Effective Ways to Promote Work-Life Balance
While there are many ways companies can encourage a better work-life balance for staff, like offering on-site childcare and free gym memberships, we've chosen to highlight three benefits/perks we feel can have the most significant impact on employees' ability to balance work and personal life.
Remote/Flexible Work

Flexible and remote work options allow employees the freedom to tailor the details around their work schedule to best fit into their personal life.

Research reveals 82% of workers say the ability to work from anywhere anytime allows them to maintain a healthy work-life balance, 91% work remotely for a better work-life balance, and 44% feel flexible working is a genuine work-life balance option for parents.

Speaking from experience, having flexibility in my weekly schedule is a tremendous help in balancing work and other life priorities as well as a HUGE stress reliever. It's something that makes me feel cared about as an individual and definitely impacts my happiness and productivity in the office.

PTO/Time Off

To enjoy a decent work-life balance, employees need to spend time away from the office. Yet 32% of workers feel pressured not to take time off, and stress levels are higher when PTO is not offered.

Spending time recharging and focusing on other aspects of life is essential for workers to stay happy, healthy and productive when in the office. In fact 88% of employees believe employers should offer PTO, and 63% would turn down a job that didn't include it. Of employees who take a week or more of vacation, 70% are driven to contribute to their organization's success, 65% feel strongly about working for their organization a year from now, and 63% have a sense of belonging.

It's essential that leadership and senior employees encourage taking time off and unplugging from work for the sake of their employees' sanity. Cultures that support unplugging have employees that are more engaged and likely to report feeling their employer cares about them as a person (64% to 43%) and that their job is important (73% to 57%).

Read more about why it's so important workers take time away from the office in our article: Why Employee Vacations are SOOOO Good For Business and How Employers Can Make Them Happen.

Financial Wellness Programs

Studies have shown that 96% of employers reported personal financial issues affect their employees' overall job performance. There are some great perks within offering a financial wellness program that can be effective at supporting financial wellness and relieving the stress of money for your employees. For example, 44% of employees feel their employer financial wellness program has helped get their spending under control, better manage healthcare expenses (13%) and investments (26%), prepare for retirement (44%), save for major goals (35%) and pay off debt (33%).

Here are some perks we think can have great financial benefits for your employees:
Employee discount programs

(like Access Perks) are a non-expensive, value packed way to help your employees keep more money in their wallets and enjoy experiences for less. One of the top factors cited for job satisfaction is having access to savings or a financial assistance program, as providing simple savings options can help reduce financial stress and boost productivity for lower-wage workers. The numbers also show that 75% of workers earning less than $60,000 a year believe that if their companies offered workplace savings programs at the same time as salary increases, they'd be less stressed and more confident about their finances.

Tuition reimbursement and

student loan repayment

is the most requested financial benefit and it's easy to see why. Who wouldn't want all the help they can get paying off student loans and/or covering current tuition? It's an instant financial stress reliever.

Financial planning resources

such as setting up one-on-one and/or group sessions with an advisor to discuss personal budgeting, retirement planning, estate planning, etc. would be helpful for employees. In fact, 53% say financial planning programs are important for increasing loyalty to their employer.

Worksite financial education

is a great way to help employees stay aware and on top of their money questions and concerns. You can hold lunch-and-learns and webinars, bring in industry professionals for insight and distribute informative materials.
It's Time to Get Balanced

It's never a bad idea to conduct an employee survey when it comes to work-life balance. Going straight to the source for feedback to see what's working and what's not is the best way to get useful suggestions for improvement. Employee feedback can be used to motivate and inspire you to build a better culture of work-life balance and make it something that is cherished, respected, encouraged and supported.