Before we get started, let's get one thing straight. I'm biased. Unapologetically so.
I've been the head of human resources here at Access Development for about four years, and I know with 100% certainty the value of a quality employee discount program for me as an HR professional.
How do I know?
First, I've been in the human resources "game" for over 25 years. I've been with firms whose benefits budgets range from big and bold to small and sparse. And I know what it's like to battle turnover and retention day in and day out. I've spent countless hours hunting for benefits that'll encourage employees to engage with our business.
Second, I've experienced personally – right here at Access – the advantages of having America's largest employee discount network in my HR arsenal.
Why does it make such a difference?
It Actually Matters to My Employees
Let's face it. Most of the time employees pay little to no attention to the benefits your company offers. Life insurance. Accidental death and dismemberment. Disability.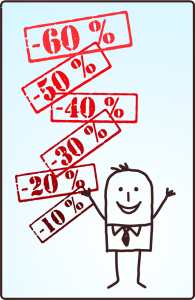 Even your health benefits are a double-edged sword because people wouldn't use them if they didn't have to, right?
Employee discount programs like Access Perks are another matter completely. Like most everybody, employees like to save money when they shop. The best employee discount programs let them do just that, every day, on almost everything they buy – from groceries, electronics and clothing to birthday gifts, dining out, skiing and bowling.
So, every day, our employees appreciate this particular lifestyle benefit – and are VERY aware of the dollars it means to them.
It Makes Talent Acquisition SOOOO Much Easier
Telling a potential employee that one of our benefits is a "nationwide employee discount program" is an exciting selling point that has, on more than one occasion, tipped the scales and helped me land the candidate.
Which only makes sense, if you think about it. How many people do you know that work for a company – even taking a second job – just so they can get the employee discount? I hear it all the time, especially from younger candidates. Telling them that they can get ALL of their employee discounts just by coming to work for Access makes for a powerful pitch.
It Helps Keep the (Damn) Poachers Away
There's nothing worse than learning that a star employee was lured to another company by "better benefits." The discounts available in Access Perks really do help our company retain our top employees because it's hard to think about giving up discounts that save you money virtually everywhere in the country! That's real money that people know they've got to replace somewhere along the way if they decide to take their talents somewhere else.
It Supports Employee Well-Being OUTSIDE the Office
As employers, we care about our employees. Helping them save their hard earned money, wherever they choose to spend it, is a real and personal connection that not many employers offer.
But it's important to note that this care – this connection – isn't just something that takes place between 8 to 5 within the walls of our business. With a program like Access Perks, we become a welcome presence in every part of our employees' lives, helping them keep more of their paychecks and introducing them to opportunities and experiences they might not otherwise be able to afford.
That's what quality of life is all about. Living BETTER.
…and Even on a Small HR Budget, I Can Afford It
Okay, this one's tricky because our discount program is obviously free to us. But I'm telling you…even if we had to pay the going rate for Access employee discounts, it would be the easiest money I ever spent. All of these benefits are available for about the price of a candy bar.
What other benefit has that kind of an impact and costs so little? It's the kind of ROI that most chief financial officers dream of, so the argument basically makes itself.
Employee Discount Programs vs. Other Benefits: It's About Value
Whatever you choose to do with your benefits package, it needs to work for you – especially when you consider that over three-quarters of all employees say that benefits are a key factor in their decision to work for an organization. The challenge for us as HR professionals is to connect the dots and offer benefits that employees will want and use. Employee discount programs are a cost-effective way to make that connection.
So not only is my life easier, it's easier for my employees, too.