So, this is what a worldwide pandemic feels like.
COVID-19 has the United States living in circumstances most of us never imagined facing in our lifetimes. For over a year now, terms like "quarantine" and "social distancing" have been regular pieces of our vocabulary. And although many of us venture into public more than we did last summer, we carry masks in our cars and are cautiously aware of our proximity to other humans.
It's impacted everybody, everywhere. Especially in the workplace.
In spring of 2020, nearly 90% of businesses encouraged employees to pack up their workstations and set up camp at home. Zoom became the new conference room, the kitchen table doubled as the breakroom, and then there's the whole toilet paper debacle. With so many people doing their business at home rather than the office, TP manufacturers increased production by over one million rolls per day yet still fell short of demand.
And they're not the only ones fighting to keep up.
Perhaps no one has felt the pain quite like Human Resource professionals. Far too many find themselves swimming in a sea of COVID gunk, struggling for relief.
They're not on the frontlines fighting the disease. Instead they're quietly (and sometimes frantically) running around behind the scenes keeping everyone else going.
Now more than ever, HR is quite literally the glue holding the rest of the workforce together.
The Show Must Go On
Fortunately, through these tumultuous times, most companies have continued operations in one form or another. For HR, this meant crisis management to the highest degree.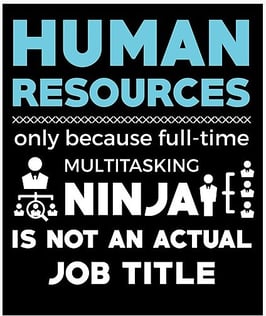 All the regular "HR stuff" hasn't gone anywhere, of course. HR pros are still immersed in all those "typical" duties like health insurance, tuition reimbursement and monthly newsletters. But COVID-19's risk and uncertainty has brought with it layers upon layers more to their workload.
Managing flexible work arrangements could be a full-time job on its own. Same with basic staffing administration. With the ongoing roller coaster from furloughs last year to worker shortages this summer, many human resource professionals find themselves paddling furiously in an ocean of paperwork for current and past employees both.
In addition, with so many workers operating from home, internal communication has become critical. And who is at the center of that for most organizations? Yep. HR.
A Day in the Life of HR
In order to keep things moving along, HR pros have stepped up and taken on new roles and responsibilities. In addition to their regular gig, they're wearing a handful or two of other hats. Some examples include:
Technology Gurus – To be blunt, shifting to a remote workforce practically overnight was grueling. And while much of the technical setup was taken care of by employees, managers and IT team members, HR also stepped in to help field troubleshooting calls for many organizations. They had to quickly learn what they could to help their people keep moving.
Safety Foremen – OSHA laws ensure that employees have a right to a safe workspace. In light of the COVID-19 pandemic, this has taken on a whole new meaning for HR pros. They've suddenly had to introduce thorough, company-wide sanitizing procedures, track down hard-to-get cleaning supplies, and brainstorm preventative measures like hand-sanitizing stations, masks and plexiglass.
Legislative Experts – Keeping up with employment-related legislation is certainly nothing new for HR pros. Last year, Congress delivered it through a firehose when they passed laws like the Families First Coronavirus Response Act and the Paycheck Protection Program. HR busily got to work making certain they were in line with hundreds of new implications that came from these bills.
Fortune Tellers – Determining when to return to work in the office varies widely across the workforce. HR pros are intimately involved in every step. As part of this, they've had to do their best to consider CDC and local governmental guidance and make educated guesses on what will be best for their organization and their people.
Emotional Reassure-ers – While most leaders focus on moving business forward, HR has the unique responsibility to oversee the human side of their workers. At Access Perks, our HR dept made personal phone calls, one by one, to each employee. They asked about our well-being, encouraged us to use our Employee Assistance Program and offered their support however they could.
And that's only at work. Just like everyone else, COVID-19 has impacted the personal lives of HR professionals as well. Over the last few months many have also played the part of parent, son or daughter, teacher, coach, friend, caregiver and therapist.
So, it shouldn't be surprising that many feel stretched thin. And though they may feel like they're barely hanging on, the reality is, they're actually holding us all together. They're doing the work that would easily keep entire teams busy. It's their relentless efforts that have made it possible for all other workers to rise to the challenge during this pandemic.
Heroes Behind the Heroes
I'm tired just thinking about everything they've been up to – and of all they've still got to conquer. Not only is it important to establish strategies for the current times, but also for the future. If they weren't already in place, now is a great time to solidify those emergency plans and update policies that may need it.
So, if YOU work in HR, let me express a gigantic, heartfelt THANK YOU. I'm sure you're up early and to bed late, working tirelessly to support your people. Because that's who HR is.
And if you aren't an HR pro, do me a favor. Reach out to your friends that are and give them the most epic air high-five (remember, social distancing) of their life.
Because you can't spell "HERO" without HR.