There are three primary components of the Access Perks employee discount programs:
300,000+ merchant locations offering print and online coupons
200,000+ merchant locations offering mobile coupons
A high-powered travel booking engine with deep discounts on hotels, cruises, travel packages, and more
There's a ton of value in there. And our collection of merchant partners is still growing. Rapidly.
It's great because everyone can find a local deal in their community. It's the main factor in what makes us different from every other employee discount program in the marketplace.
But having the most deals isn't enough.
What truly matters is being able to give employees the right offer when they need it. That's when engagement accelerates.
With that in mind, we're proud to introduce the latest update to the Access Perks mobile app.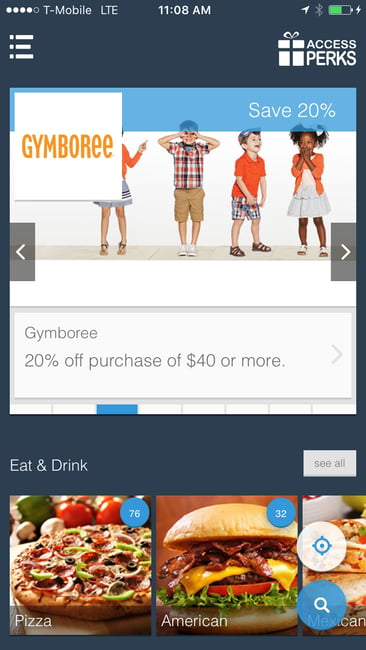 The app is designed to make it easy for every user to find deals they can be excited about. From the registration process to keeping tally of how much they've saved, the new Access Perks app is a money-saving machine for your employees.
What's New in the Access Perks App
It's an all new app, with a ton of new features. These are the highlights you need to know:

Improved performance and speed
Simplified email registration
Quick tutorial for new users
Dynamic landing page featuring relevant offers based on the user's location
Landscape and portrait orientation
Powerful new filters to sort offers however you like
Search from anywhere button
More redemption options on some deals (including print and phone)
Expanded favorites now include specific deals, stores, and brands
The Access Perks employee discount program app is built on the same platform as Access Development's My Deals Mobile app. They wrote an in-depth breakdown of the new features, plus a quick video overview, over on their blog.
Some Things Haven't Changed
The majority of offers on our network are redeemed simply by showing your phone at the point of sale
Your company is still featured prominently, so your team knows it's their employer giving them the savings
We're still backing up your employees with real, live service representatives
Everything that happens in the Access Perks app is designed to save your employees hundreds of dollars. That means great local deals on the purchases they make every day: food, clothing, entertainment, repairs, more.
In-store shopping still comprises over 90% of spending, and consumers are increasingly relying on mobile coupons to help them save.
We're there with them, and our new app makes it easier than any other available.
Wanna Take it for a Spin?
Our existing clients and users simply need to update their apps within iOS or Google Play. Any questions or concerns? Just hit the "need help" button on the registration page, or click "help" on the navigation menu (found by swiping from left to right across the screen).
Not an Access Perks client and want to try the app out for yourself?
Click here to contact us today for a demo and a free personal trial.