Browse through the Access Perks site a bit and you'll see that we're not exactly like other employee discount programs.
We dedicate a lot of time and effort into creating direct relationships with merchants. That's how you build a network of over 350,000 merchant locations.
Even more important is the quality of offers we're able to acquire through those relationships. Offers you won't find anywhere else.
But, even that's not good enough for us. We're always going for bigger and better.
Today we announced a feature that's already resulting in more brands and better offers.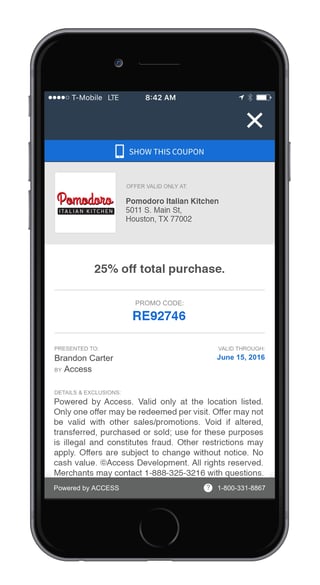 Serialization allows us to create custom barcodes and promo codes for our merchants. These codes are designed to do a couple things.
Make sure the deal is used by its intended target and not the general public

Integrate into each merchant's unique point of sale system
Here's why it's a big deal for you:
First, our members are getting bigger brands and better offers.
Many popular brands won't do offers with any discount program that doesn't have serialization. They simply can't afford to have their offers pop up on public sites.
Access Perks has already added Redbox®, Gymboree, Men's Wearhouse, and many others since debuting serialization.
The second reason it's a big deal is simplified redemption. These codes plug into each merchant's point of sale system. Everyone loves a smooth redemption process, and this is as smooth as it gets.
Discover the Difference
We've outlined a few different reasons why free employee discount programs aren't what they're cracked up to be. They're taking what's available to the public and forgoing direct merchant relationships.
Then there's the Access Perks approach, where we build features like serialization to meet merchant needs. And it pays off, as we're able to create amazing deals from amazing brands that people actually use to save buckets of money.
Have questions about serialization? Want to check out more of the new offers we've added to our discount network? Reach out to us directly here.