As Human Resources Director at Access Development, if I had a nickel for every time an employee asked me who our dental insurance provider is, I'd own my own tropical island.
We go over it upon hire... and then each year at open enrollment. We send them home with materials detailing our plans. Each employee completes their personal enrollment forms. Then they tuck all that valuable information away into the nethermost corner of their mind. Until they need it. And then it's panic time.
Meanwhile, in the HR department, we are immersed in benefits all day, every day. It's our job.
Some days that job resembles that of an account manager. Employees are our "customers," and we're expected to understand their needs, find benefits that solve them and then make those benefits suuuuuuper accessible.
Some days our job feels more like that of a teacher. Employees are our "students," and we're expected to help everyone master not only what their benefits are, but how and when to use them.
Magic happens when employees use and appreciate their benefits suite. If they're not, we're missing the point.
Why Do We Need To Communicate Employee Perks/ Lifestyle Benefits?
We spend a ton of money in the effort to offer the best employee benefits. They are a huge component of employee compensation and a great opportunity to promote employee engagement. (We talk about this more in our article: Why Usage Matters.) We want our employees to recognize that working for our company makes their life easier, happier and better. We don't want to be among the 70% of U.S. businesses that believe employees are underutilizing the benefits they make available.
Imagine what it would be like if your employees were taking full advantage of every single benefit your organization provides. How would that change the way they feel about their employer and affect their loyalty and performance as a result?
Employees who use their benefits to the fullest are more likely to stay with their employer. For example, 42% of employees with access to mental health benefits said they were more likely to stay with the providing employer than they would be if this benefit wasn't offered. This is big news during a time when people are retiring, resigning and reshuffling at record rates. [https://blog.accessperks.com/10-ways-to-avoid-getting-blindsided-by-baby-boomer-retirements]
Every opportunity to educate is an opportunity to deepen employee engagement and loyalty.
Unfortunately, history has shown us that most won't regularly use their benefits without a little nudge or two… or two hundred.
Why Don't Employees Use Their Benefits?
It's tough to find a one-size-fits-all employee perk / lifestyle benefit. Most employers even offer multiple choices for health insurance plans because employees' needs vary so greatly.
It shouldn't come as a huge surprise, then, that employees won't use all of their benefits to the same degree. For example, some of our employees may not be interested in the Mass Transit Pass we offer. Others LOVE it.
Disinterest is actually a completely valid reason for employees to ignore a benefit or two (though hopefully your benefits package overall is diverse and inclusive enough that every person has something to love and enjoy). One thing is certain. If an employee isn't fully utilizing a benefit we provide, it better not be because they didn't know about it. That's the last thing we as benefits specialists want to hear.
How are U.S. businesses doing? One study found that 76% of employers struggle to help employees understand and value their benefits package. Plus, 55% of employees admitted they should know more about their benefits than they do.
So how DO we market our benefits?
How To Promote Employee Benefits and Perks
When it comes to promoting benefits and employee perks, no single medium will do the trick on its own. There are many factors influencing how well an education opportunity will work: employee preference, the complexity of the benefit, timing, etc. That's why many businesses promote their benefits repeatedly across a variety of tools.
To illustrate this, our internal wiki is an excellent tool for communicating benefits. It has the space for extensive information that is well organized and easy to search for specific answers. Our wiki has some diligent followers, but a good number of employees have only visited it a time or two, if at all. If I relied on that as the primary mode of communicating all of our benefits, I'll wind up with one group of very educated workers and another who don't have a clue what's going on.
Instead, we should select a wide array of strategies to get the word out.
Here are my 12 Favorites (and why they work):
Offer letter. It starts at the very beginning for us. Each time we extend an offer of employment to a new candidate, we issue an offer letter with a thorough list of the benefits they'll receive upon hire. This is a great place to kick things off with them as it showcases the important role benefits play in their total compensation.
New Hire Orientation. Each new employee receives a binder on their first day that includes detailed information about their benefits. We also set time aside

for a benefits-specific orientation meeting in which new hires are given at least an hour to learn about benefits options, ask questions and complete enrollments.

Open Enrollment Meeting. We hold a company-wide open enrollment meeting annually regardless of whether or not any changes have occurred to our insurance plans. This gives all employees the opportunity to ask questions of company leaders as well as our benefits providers who are typically in attendance.
Emails. Emails are easily the most frequently used and broadly accepted method for promoting our benefits. However, although they tend to have the broadest reach, they also occasionally get lost in the shuffle since our employees use email so heavily for their personal job duties. To avoid this, we try to label our emails with clear subject lines so they're searchable when employees want to go back and revisit them. We also encourage employees to create a folder in their inbox where they can tuck away HR emails for future reference.

These savable emails are a great place to attach copies of our benefits guide, video tutorials, links to carrier sites, lists of important phone numbers, etc. We post all these resources to our internal wiki, our payroll tracking software and other places so that each employee can find this crucial information where they prefer.

Slack channels. At our company, we use the instant messenger tool Slack for internal communication. In addition to employees using it for one-on-one or small group collaboration, we have a handful of company-wide channels. Two specific examples include:

"Be Well" – This channel is devoted to physical and mental health initiatives. It provides a great place to promote our health insurance and other benefits or events that they can take advantage of.

On this note, our Be Well team has a representative from every department, which strengthens our ability to communicate, especially where it comes to gathering feedback from a line-level perspective.

"Savings Stories" – Employees are encouraged to post savings they've received when using our employee discount program.

To get our employees excited about sharing their stories, we kicked this channel off with monthly prize drawings. Contests like this can get employees excited to share how they've saved money and is a great way to encourage usage. W

hen it comes to employee discount programs, the more they use it, the more they love it.

Walk-Abouts.

You can't ever really beat face-to-face. We love to go Paul-Revere-style and walk around the office to promote upcoming events whenever possible. We're able to communicate our excitement for the benefit and employees can get clarity if they have any questions. It's been one of the most effective means for us to get the word out and build excitement surrounding our benefits.
Monthly Newsletters. Each edition includes a message from the HR team about benefits utilization and an article from a member of our Be Well team which focuses on health and wellness. They typically incorporate tips for improving in one or more areas of wellness and include any company benefits that would help with those goals.
Internal Wiki or Intranet. Our benefits section on our internal wiki serves as a great central location to house overviews of all the benefits we offer. We include links to more specific details and instructions when needed. It's the best place we've found to provide an all-inclusive "how-to" for all the benefits in our package.
Outlook Calendar Events. Rather than leave it up to employees to remember all the on-site benefits we provide, we send out calendar invitations for

events like 401K consultations, Q&As, financial workshops and others

so they show up right on their Outlook calendar. This is an easy way to ensure they see friendly reminders of the benefits at their disposal.
Break Room Bulletin Boards. This is a great place to promote upcoming company events or post informational materials I receive from any of our benefits providers. It gives employees something to read while they wait for their food to warm in the microwave and even sparks conversation about benefits between employees.
On-Site Events. Our annual health fair is a popular event each summer. Over the years, we've invited employees and their families to visit vendors and take advantage of great services like a CPR class, teeth whitening, DNA allergy testing, vision screening, chair massages, blood drives and lots more. Once an all-day event, we've recently reformatted our health fair into a health month to better fit a hybrid (in-office/at-home) work model.

For our most recent health fair, we invited vendors that work hand-in-hand with our benefits to come onsite each week in August.

Events are a great opportunity for benefits education. Plus, they can infuse a bit of fun into the process. For example, our annual 5k that we hold each fall is a big hit with our employees AND since our providers sponsor a goodie bag for participants, it's also a great chance to educate about wellness initiatives/benefits.

Visiting Consultants. Each quarter we bring in benefits specialists and representatives from our benefits carriers. This gives employees an opportunity to bring up any issues and ask the questions that help them be better consumers of their benefits. For example, our 401(k) planner meets with employees individually if they'd like. Employees can schedule an appointment to go over their plan, ask questions and seek advice regarding their investments. This has really helped our employees maximize the value of our retirement benefits.

We also offer periodic on-site dental cleanings, chiropractic care, flu shots, haircuts, car-detailing and other services employees can choose whether or not to take advantage of. Several of them are free with the use of their insurance.
A Quick Note About Healthcare Benefits
While consistent communication across varied channels is crucial, the content of the messaging is equally important. I've found that simple reminders are a missed opportunity to educate and help employees be better consumers of their benefits.
Education can make a huge difference, especially when it comes to healthcare benefits. For example, if an employee twists an ankle, we want them to know to go to an Instacare center instead of the emergency room. Not only will they receive the care they need, they'll help keep premiums down for the entire company by choosing the more economical option. Similarly, we continually educate our employees about their telemedicine services to help reduce healthcare costs and save them time in the doctor's office.
Do What Works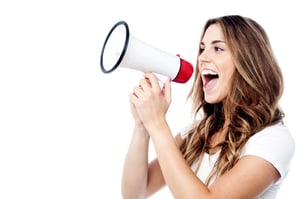 At the end of the day, my most effective communication strategies may not get you the results you're looking for. After all, it's a huge task helping everyone understand not only the carriers and benefits you offer, but also how to utilize them to their fullest potential. Hopefully, though, they give you some new ideas. The key is to identify what works for your benefits and your people.
Last free tip: We love to use short, 2-3 question surveys throughout the year to gauge what matters to employees and how our efforts are working. There are free survey tools and it doesn't take more than a few minutes to create the survey and assess the results.
We Want to Hear From You
Drop us a comment below with some of YOUR favorite and most effective methods for getting the word out about your corporate benefits. We love new ideas!