For all the importance of employee benefits and perks, TIME is a resource that HR never seems to have enough of. As a result, snazzy benefits often don't get the promotion they need to be fully utilized and appreciated by employees because it's just too much work. Instead, they get overlooked and go unused.
And that's a problem.
According to the Bureau of Labor Statistics, benefits account for nearly one-third of employee compensation. In some cases that number tops 38%. So, if employees don't actually experience these benefits making their lives better, they're likely to feel wildly undercompensated. And that leads to a whole slew of problems, not the least of which are employee turnover and disengagement.
HR Carries the Heavy Load for Essential Employee Perks
Employers everywhere embrace the importance of a robust benefits package in maintaining a competitive edge with workers. And it's up to HR to make it happen.
HR reps don their "Benefits Curator" hats more than ever before as they construct the very best benefits arsenal they can put together. But it's not enough to just offer great benefits. It's really about providing enough support so employees actually use them. And finding that time can be next to impossible.
That's why we created the Client Marketing Portal (CMP) for the Access Perks employee discount program. If we've learned anything in our 40 years of helping organizations with their loyalty efforts, it's just how grueling administering benefits can be. HR has more than enough on their plates. Getting discounts in their employees' hands doesn't need to be complicated. With the CMP, managing and promoting the savings is quick and easy without sacrificing impact.
What is the Access Perks Client Marketing Portal?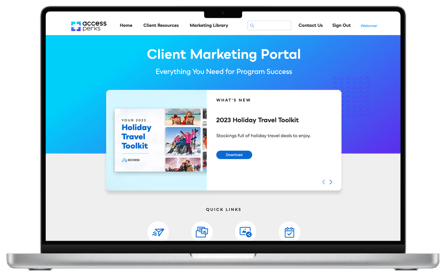 The Access Perks CMP streamlines communication between benefits administrators and their employees to maximize the savings in their employee discount program. With hundreds of ready-to-go resources, employers can put deals in their employees' hands faster than they can say "dollar bills".
It provides a huge library of content, tools, and insights to help organizations launch and promote their discount program successfully.
What Can You Find in the Client Marketing Portal?
One of the coolest things about the CMP is that it's updated regularly so the content is always fresh and current. It's chock-full of educational materials that link directly to huge savings in the Access discount network.
Everything inside is easily shareable so program administrators can quickly pass the most relevant information to their employees. Even better, most content is customizable so organizations can add their own program name, logo and URL.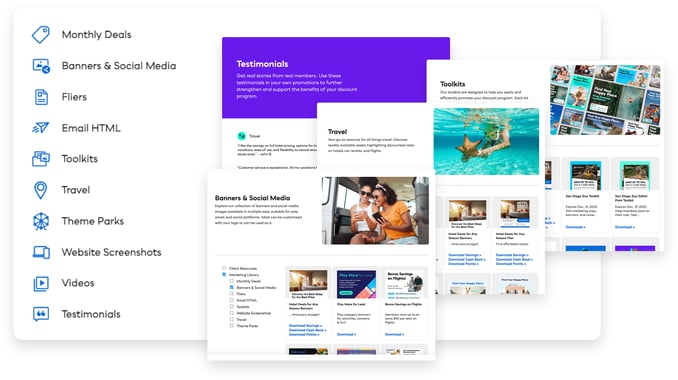 Here are the types of assets in the CMP:
Toolkits & Playbooks
Each toolkit is packed with downloadable content specific to a savings category (like dining, shopping, etc.), holiday theme, or destination (for travel deals). The creative assets will vary slightly from kit to kit but inside are things like: educational fliers, PowerPoint slides, social media banners and images, instructions for use and more.

Monthly Deals
At Access we work with over one million merchant locations that offer deals exclusively to our members. Each month we highlight savings that are applicable to the season or discounts that are especially rich.
HTML Emails
One of our clients' favorite parts about Access Perks is that we take care of the marketing emails that showcase bigtime savings. However, some organizations with strict data privacy policies prefer that all employee communication come directly from their own email provider. So, for those clients, we upload the emails - html code and all - to the portal so benefits admins can easily forward it to their employees.
Member Testimonials
Testimonials are really helpful in personalizing the savings and helping people see how it can benefit them directly. This section is particularly beneficial for clients that want to create their own flier, email or newsletter with specific examples of how the savings make a difference in employees' lives.
Travel Content
Since our travel deals deliver super-sized savings in each booking, they're a favorite with employers and employees alike. As such, they've earned their own section inside the Access Perks CMP. It's packed with playbooks, images, html emails, logos for travel brands and more all focused specifically on travel themes. Whether employees hope to venture abroad or staycation near home, these resources point them directly to the discounts that can make it all happen.
Fliers
One of the most popular collections in the CMP, fliers are great for printing and posting around the office. It reminds employees about their savings benefit and prompts conversations among workers about the deals they love most. Fliers are also available to download and be emailed or sent out digitally.
Banners & Social Media Images
In the social media section, clients can choose their favorite images and educational copy to post to internal social media groups, the company intranet or even in HR's own emails to employees. Images are available in a variety of sizes so each organization can find the ones that work best for them.
Videos
The CMP features several short videos that really bring the discount program to life. Each walks members through a different area of savings. For example, one video teaches users how to navigate the savings website while another shows them specifically how to find the best deals on hotels. These are great when organizations first roll out the new employee benefit but are also popular resources to keep employees educated and excited about their savings.
Case Studies & Info Sheets
The case study section in the CMP is a little different from the others. Rather than find content to share with program users, it's full of useful information to help clients get the most bang for their buck out of their employee discount program. The case studies look at seasonal campaigns and share data to measure the success of various marketing strategies. In addition, there are several infographics and other educational materials available to download or print.
HR to the Rescue. Again.
Thanks to the CMP, it's simple for benefits admins to put the most relevant discounts right at their employees' fingertips. The savings stack up quickly and become part of workers' everyday lives.
From hiring and onboarding, to engagement, retention and everything in between, HR professionals manage an endless list of responsibilities with skill and prowess. Administering employee benefits is just one part of the job. Yet it's absolutely critical to company success.
When you stop to consider all that HR does for their people, their efforts are truly nothing short of heroic. (Join in our celebration of all they do in our article: You Can't Spell HERO Without HR.) The Client Marketing Portal was designed to save them time so they can focus on what they do best: taking care of their people.
For a closer look inside the CMP, check out this short video:
Still have questions? We'd love to talk to you. Feel free to reach out to your CSM or contact us directly at 1-888-433-7898.