It's the third week in January, and the rubber has officially met the snow-covered road.
The holidays, and the frequent days off that they bring are gone.
For most of the US, the weather outside is still frightful, but there's no longer a delightful fire, and we definitely have places to go.
Like work, mostly.
This is the time when those New Year's resolutions meet actual resolve.
Those early morning gym sessions don't feel as good as the warm bed.
Focused work isn't as fun as keeping up with the latest political and celebrity controversies online.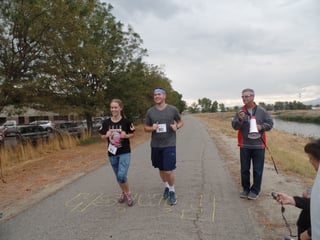 Some people are doing great. Killing it, even.
For others, things are about to break bad. 42% of New Year's resolutions don't make it past the first month.
As employers and managers, we really want to see our team succeed. We want them to meet their personal goals and knock resolutions out of the park.
But what role does an employer have in helping employees meet their ambitious personal goals?
Can an employer be more than a cheerleader? Is there a way to become an active participant in the personal development and improvement of individual employees?
Yes, and they should.
But be warned - it's a fine line between encourager and authority.
What's In It For Employers
As employers, it sure would be nice to get in on those resolutions. We'd love to encourage employees to get healthier, learn new skills, and eliminate distractions.
But do employers have a right to mandate these improvements?
There's an argument to be made if you look at the numbers.
Gallup estimates over $153 billion is lost each year due to absenteeism related to obesity and other chronic health illnesses. The WHO estimates depression and anxiety cost employers 15 billion days of work and $1.15 trillion annually.
In dollars and cents, employers absolutely have a stake in the game. Trillions of dollars can be recouped from a healthier workforce.
In 2013, pharmacy retailer CVS created a policy that required employees to submit their weight and other vital stats monthly or face a $50 fee.
The policy was met with outrage and lawsuits.
We can't make people be healthier. Not if we really care about our employees and their long-term success.
Get on Their Team
So if mandating improvement is only a nuclear option, what else can you do?
Instead of being the authority, become the teammate.
Create a culture that encourages personal development. One that actively challenges and rewards employees who push themselves forward.
Use these five ideas to set the foundation of that wellbeing-centric culture:
Set Rewards - It doesn't have to be cash, and you might even get away with simple recognition. The idea is to encourage each employee to not only name their goals, but show that you care enough to reward them when they meet those goals.
91% of employees would engage in healthier behaviors if they were rewarded (Welltok)
Get Managers Involved - As with every other aspect of working life, people will follow their managers. If you want employees to get involved and take a wellness effort seriously, managers must do so first.
51% of employers say their senior leaders are visible champions of the organization's health and well-being strategy (Willis Towers Watson)
Encourage Wellness Among Peers - Employees' odds of success are far more likely if they have someone in the trenches with them. If you have a health and wellness program in place, great. If not, help by providing wellness resources and creating informal small groups that work together toward goals.
91% of workers at companies that support well-being efforts are satisfied with their job (American Psychological Association)
Encourage Usage of Benefits - The chances are pretty good that you already have some valuable benefits in place that address many of the health goals employees have. Don't let these remain a mystery. Encourage usage of employee benefits and corporate perks, including preventative care, EAPs, PTO, and more.
19% of American workers say their employer does not discuss the specifics of their health care benefits at all (Zocdoc)
Look Beyond Health - It's tempting to focus all wellness efforts on physical health because there's such an obvious ROI for the company and the employee. Don't lose sight of other wellness issues pressing employees and hampering your efforts, like stress, debt, and family drama. Stress has a major impact on employee performance, even if your office isn't a primary source of that stress.
80% of employees report being stressed out by work (Nielsen)
You Can't Force Improvement
A healthy workforce isn't just something nice to have. It's potentially worth millions of dollars in revenue and productivity.
But unlike sales goals or driving web traffic, it can't be forced, or even purchased.
It requires a more sophisticated touch. And right now, when employees are waffling on their personal goals for the year, is your best time to have a significant positive influence.
Get involved in a positive way. Show them the company is invested in them and willing to cheer them on toward their goals and dreams. Offer resources, encouragement, and rewards and recognition throughout the process.
It may not directly result in millions of dollars back in your coffers. But employees will notice and appreciate it during the challenging and sometimes dreary months ahead.