For years companies have invested in customer loyalty through programs, incentives, customer service operations and more. Meanwhile, not nearly as much attention has been placed on a segment that has proven, direct correlations to customer retention: employee engagement and loyalty.
As we've done with customer loyalty, coupons, millennial loyalty and others, we felt it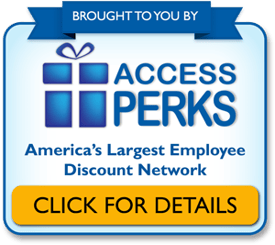 would be useful to compile relevant statistics on employee engagement and loyalty.
By relevant, we mean US-based research and surveys released in the past few years (if it's older than 2010 we've provided a notation). Each employee engagement statistic has a link back to the original source when possible, or a reputable media citation otherwise.
Looking through these you'll see some trends emerge, or in some cases, conflicting data. We'll leave those for you to interpret which is most accurate. We've broken them up into categories:
We'll keep the page updated regularly with new research. If there's a statistic you're looking for but can't find, leave us a note in the comments and we'll see what we can do to help.
This data is compiled on behalf of Access Perks, our employee discount program geared for small- and medium-sized businesses. Click here to learn more about Access Perks.
Employee Retention & Engagement Statistics
34.1% of American workers are engaged (Gallup)

25% of employees are highly engaged, 40% are moderately engaged (

Aon Hewitt

)

49.5% of employees are "not engaged" and 16.5% are "actively disengaged" (Gallup)
29% of millennials are engaged at work, 16% are actively disengaged, 55% are not engaged (Gallup)

US companies improved employee engagement from 63% in 2014 to 64% in 2015 (

Aon Hewitt

)

74% of all workers are satisfied with their jobs; 66% of those are still open to new employment (Jobvite)
37% of employees indicated they were "very satisfied" and 51% "somewhat satisfied" with their jobs

(

SHRM

)

86% of employees say they're at least somewhat happy with their jobs, 43% are very happy, just 4% very unhappy (Staples)
67% of employees are extremely or very satisfied with their jobs (Aflac)
Engagement levels are consistent across every generation (Modern Survey)
$11 billion is lost annually due to employee turnover (Bloomberg BNA) (Commonly cited statistic, source link unfound)
Millennial turnover costs the U.S. economy $30.5 billion annually (Gallup)
Total turnover in 2014: 15.7% of the workforce (Compensation Force)
Total voluntary turnover in 2014: 11% of the workforce (Compensation Force)
Cost of replacing entry level employees: 30-50% of their annual salary (ERE Media)
Cost of replacing mid-level employees: 150% of their annual salary (ERE Media)
Cost of replacing high-level or highly specialized employees: 400% of their annual salary (ERE Media)
44% of Millennials say, if given the choice, they expect to leave their current employers in the next two years (Deloitte)
50% of Millennials (compared with 60% of non-millennials) strongly agree that they plan to be working at their company one year from now (Gallup)
42% of millennials expect to change jobs at least every 1-3 years (Jobvite)
Industries with highest turnover in 2014: Hospitality (20.2%), Banking & Finance (13.3%), Healthcare (13%), Insurance (11.2%) (Compensation Force)
The industries with the highest employee engagement are heavy manufacturing and financial services (Modern Survey)
The industries with most disengaged workers at hospitality, government and light manufacturing (Modern Survey)
Companies that increase their number of talented managers and double the rate of engaged employees achieve, on average, 147% higher earnings per share than their competition (Gallup)
45% of employees reported that they would be likely or very likely to look for other jobs outside their current organization within the next year (SHRM)
45% of employees plan to stay at their jobs for at least another year (MetLife)
1 in 3 workers will change jobs in the next 6 months (Saba Software)
Each year the average company loses 20-50% of its employee base (Bain & Company) (Commonly cited statistic, source link unfound)
States with the highest percentages of engaged employees: Montana (39%), Mississippi (37%), Louisiana (36%) (Gallup)
States with the lowest percentages of engaged employees: Connecticut (21%), New York (21%), Michigan (21%) (Gallup)
Cities with highest percentage of engaged workers: San Antonio (38.1%), Oklahoma City (37.6%), Riverside, Cali. (36.8%) and Tulsa (36.3%) (Gallup)
Cities with lowest percentage of engaged employees: Buffalo (23.5%), San Jose (24.7%), Minneapolis (24.9%), DC (25.9%) (Gallup)
33% of senior leaders believe employee loyalty has a direct relationship to profits (American Management Association)
Customer retention rates are 18% higher on average when employees are highly engaged (Cvent)
Almost 50% of organizations fail to measure employees' engagement with the customer or the brand (Edelman)
32% of US workers were engaged with their employers in 2015, up from 31.5% in 2014 (Gallup)
16% of workers in the US are "fully engaged" (Modern Survey)
Only 13% of employees are engaged worldwide (Gallup)
23% of employees are "Disengaged" (Modern Survey)
21% of sales employees are "Fully Engaged" compared with only 13% of non-sales employees (Modern Survey)
The number of highly and moderately engaged employees in the U.S. increased from 55% last year to 57% this year (Temkin Group)
Only 1 in 150 employees who say their organization does not have a set of values are fully engaged (Modern Survey)
33% of women are engaged with their employers, 28% of men (Gallup)
63% of young females agree that employees should stay in their first job between 2-3 years, compared to 54% of males (Adecco)
58% of women without young children would rather work outside the home (Gallup)
47% of employees report feeling very loyal to their company (Metlife)
53% of employees say they will be with their current employer one year from now (Mercer)
31% say they changed jobs in the past three years (Gallup)
21% of millennials say they've changed jobs within the past year, more than 3x the number of non-millennials (Gallup)
40% of companies are reporting loss of personnel as a top concern (SHRM)
The top three challenges faced by HR organizations today are turnover, employee engagement, and succession planning (SHRM)
80% of HR pros say that employee engagement is an important area of focus for their organization (Temkin Group)
49% of HR leaders named retention and leadership development programs as the top priority among talent management goals (Saba Software)
Workplace Satisfaction Statistics
Employee Benefits Statistics
Miscellaneous Workplace Statistics
These don't necessarily fit into one of the above categories, but they're definitely impactful on employee engagement and as a result, customer engagement. They show a changing workplace, where it's becoming harder to attract top talent while transitioning to the unique millennial culture.