Follow these links to view the webinar and presentation deck featuring in-depth analysis and commentary from the researchers and HR professionals who conducted this study.
The results of the HR Professional's Stress Index show statistically what issues cause the most stress and anxiety among human resource professionals.

Many interesting findings demonstrate that HR professionals endure a significant amount of stress, especially when compared to previous years. However, COVID is not the only significant source of stress.

Topping the list of concerns is an overall lack of staffing support for work needing to be done, while the recruiting / hiring of new talent emerges as the leading cause of HR anxiety.
#HRStressIndex
About a 19 min. read
Table of Contents:
Job Satisfaction and the Impact of COVID
Tasks/Responsibilities that Cause Stress
Value Statements Related to Stress
Survey Purpose
The HR Professional's Stress Index is a global study measuring the types of tasks, responsibilities, and issues that cause stress and anxiety among human resource professionals. It's a benchmarking study intended to be conducted annually to identify trends and changes over time.
Why bother launching such a study?
Aside from having a better understanding of what's important to our core audience here at Access Perks, if we understand what HR professionals like and dislike about their jobs, it will help us know how to serve them more effectively.
In that spirit, we concluded we could learn a lot of important information if we were willing to take a deep dive into what truly causes stress within the HR community. It wasn't an easy decision, as any type of rigorous research requires a significant amount of time and resources. Here's how it all came together.
For the last eight years, the Access Perks blog has posted tons of articles specifically for the benefit of HR professionals and their staff. Today our articles are shared and read by thousands of career-minded HR professionals worldwide. Our blog has become a trusted source of education, opinion, insights, and research about topics that can help those in human resources do their jobs.
We search out the best articles and research from trusted sources and incorporate the most relevant information into our articles. Resources like SHRM, NHRA, and many others produce extensive content and insightful data – all having to do with the world of human resources.
Yet since the pandemic, we haven't found a lot of accessible data that addresses the emotional state of HR professionals, and specifically which stressors impact their performance and job satisfaction. That's why we decided to launch our own research.
It's not as though we're new to statistics, business data, and behavioral research. Many of our blog subscribers started out by visiting one of our popular pages that curate a vast collection of HR statistics. (See our Employee Engagement & Loyalty Statistics: The Ultimate Collection, or the Ultimate Collection of Employee Benefits and Perks Statistics).
We've also conducted other independent research relating to the consumer sector and other verticals we serve such as membership groups, associations, and higher education alumni organizations. Yet this is the first time we've launched a rigorous study about those who work in human resource/personnel/workforce management/human capital, etc.
The HR Professional's Stress Index is funded by Access Development on behalf of Access Perks. Because our focus is on adding greater value to those we serve, we thought it appropriate to share our research findings with all HR professionals free of charge.
Methodology
We started this process in the latter part of 2021. We consulted several industry experts who helped us build a survey instrument that could address the most pressing issues facing HR professionals today. The study was conducted from January 10 through February 15, 2022, using both online surveys and telephone interviews. Email invitations were sent to 66,430 HR and benefits professionals worldwide. We received 2,273 responses, giving us a respectable margin of error of plus or minus 2.05 percentage points. This gives us great confidence in the final results.
As the inaugural benchmarking study, we have designed this study to measure persistent issues in HR, as well as identify ongoing trends in the coming years. Although most of us still deal with the effects of COVID-19, we were fearful of skewing future results with specific questions about the impacts of the pandemic in this study. Many respondents mentioned they were still dealing with the impact of pandemic-related issues, so we have included these anecdotal responses in this report.
Demographic Overview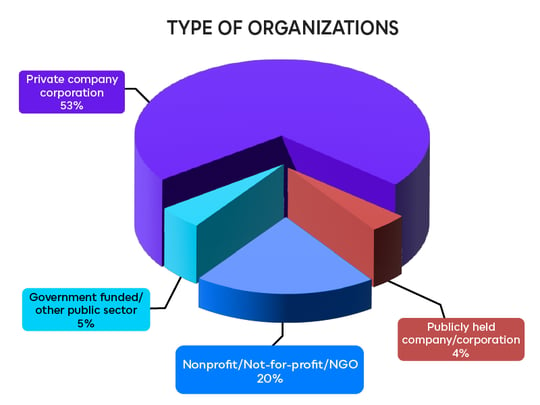 Respondents included professionals from Asia, Europe, and Africa. However, 98 percent of respondents live in North America.
Our respondents' business entities were categorized into four segments, the largest segment being private businesses and corporations. The smallest segment is the public sector, including government-funded organizations.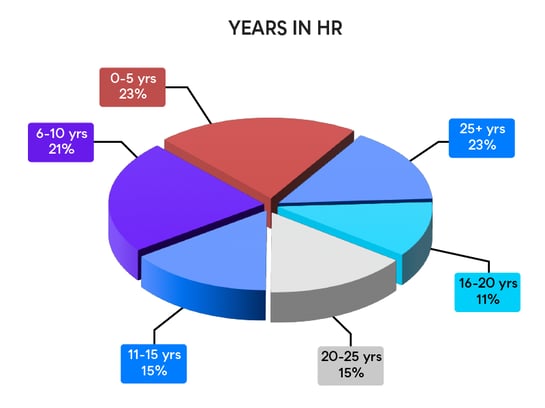 Respondents have a wide variety of professional experience, with some having a year or less in HR, while many have over twenty-five years of experience. The average tenure of the survey respondents is 15 years.
When we look at the average size of the workforce represented by our respondents, the average company/organization has 1,521 employees.
Executive Summary
It's clear that an unusual confluence of economic conditions in late 2021 and early 2022 have had an impact on HR professionals.
The pandemic alone would have been enough to send any economy reeling, but add in historic inflation, the intensifying war for talent, the accelerated rate of baby boomer retirements, the Russian/Ukraine war, supply chain disruptions, etc., it's a recipe for stress and anxiety among all types of business professionals, not just those in HR.
Inflation has become a persistent challenge, which naturally creates upward pressure on wages. Many employers have already responded with pay increases, but a recent SHRM article pointed out that despite these modest pay raises, these recent pay increases still don't offset inflation. While C-suite executives seek to keep labor costs at a minimum, HR departments can feel the intensifying pressure to compete for talent, but often lack the flexibility to offer competitive pay, meaning key positions go unfilled.
Wage compression issues are more prevalent now than at any time in recent memory. These unique combinations of wage pressures come not only from the salary demands of new hires but also from long-term employees and labor groups who are intensifying their call for higher wages to match or exceed the higher-paid new employees.
We see this dilemma manifested in the results of the survey.
Perhaps not surprisingly, the most significant stressor for HR professionals is recruiting/hiring, with 87 percent reporting it causes either "significant" or "moderate" stress.
Closely related to that, 74 percent said "dealing with executive demands," causes them "significant" or "moderate" stress. It's likely many HR professionals are having longer, more intense conversations with their executives as they try to work through the current hiring crisis.
When it comes to general concerns about working in HR, the biggest concern, representing 58 percent of respondents, is "not having enough staff to complete necessary tasks." Close behind at 56 percent, is not being able to keep up on your workload."
As it relates to HR's integration into the company's culture, fully 92 percent report they have a good relationship with their employees, 79 percent have a good relationship with the senior executives, and 74 percent state they trust their immediate supervisor.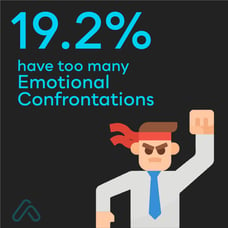 We also found 19.3 percent of respondents admit they work in a toxic environment and 19.2 percent have "too many emotionally charged confrontations" at work.
Despite the challenges, only 30 percent report they "often consider getting a new job outside of HR."
We'll dive into more detail on these and other metrics a little later on.
Job Satisfaction and the Impact of COVID
Depending on who's asking and how the question is asked, the range of American workers who are satisfied with their job ranges from as high as 65% to as low as 45%.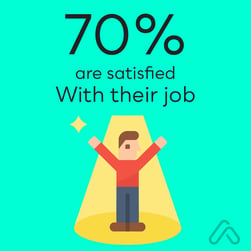 This compares to our study where 70 percent of HR professional's report they feel satisfied with the work they do.
Historically, HR professionals are among the select group of workers who are the most satisfied with their job. They include other professions like those in the clergy, medical professionals, firefighters and teachers.
So what do all these professions have in common? They are all professions that at their core, are about people helping other people. Social psychologist Elizabeth Dunn explained this phenomenon in her Ted talk, where she describes her research that shows how helping others makes us happier. The more we help others, the higher the likelihood that we'll enjoy our job.
Other important reasons for such a high level of job satisfaction among all these professions include relatively low stress, regular hours, and adequate pay. Not to mention the day-to-day tasks are fulfilling, varied and usually low intensity. Over all, what they do each day usually matches their abilities and likes.
The big decline likely has a lot to do with COVID, and other related events.
It seems that almost overnight HR became more stressful. Instead of regular hours you were keeping long, irregular hours. The onset of inflation made your so-called "adequate pay" much less adequate. You faced greater intensity with your day-to-day tasks, and many were forced to become quasi-medical professionals, as fulfilling these tasks caused greater stress because these responsibilities are typically not suited to your abilities and likes. The final coup de grâce was being forced to give up face-to-face interactions in lieu of virtual meetings and Zoom calls. Suddenly all the things you once liked about your job, went out the window.
Is it any wonder you're feeling stressed out?
Of those respondents who left a comment, 52 percent mentioned the stressful impact of COVID 19 on their company, employees, and HR specifically. Here is a sampling of those comments:
"The pandemic is taking a toll on everyone's morale"
"COVID has changed everything in the HR world, not for the better."
"COVID-19 is a huge stressor, currently my most significant one. I've had to practically become a medical professional to help our employees navigate this pandemic."
"I think my company wants to respect the work/life balance, but COVID has been crazy for HR and that has impacted the balance in a big way."
"With the pandemic and current talent market, my job feels endless. And the success goal line moves every day. My contributions are never enough."
"COVID has made the HR position extremely stressful."
Current data shows the national trends for the number of new COVID cases and related hospitalizations. Unfortunately, the impact of the pandemic may linger in the back of our minds for many years to come.
While most HR professionals still like their job to a greater degree than most, our study will continue to monitor this metric to identify trends that indicate an ongoing decline in job satisfaction.
The HR Stress Environment
Respondents were then asked to indicate their level of concern about their work environment. Our question: When it comes to general concerns about your work as a human resource professional, please indicate your level of concern about the following: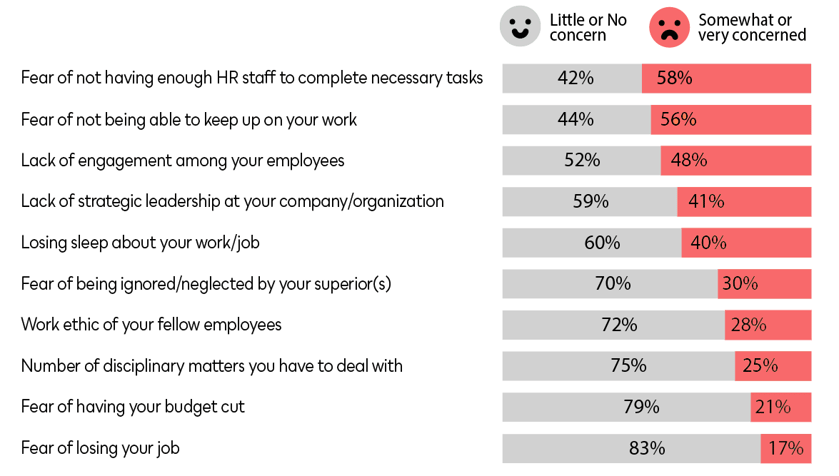 The biggest concern among HR professionals relates to staffing levels and workload. We see 58 percent concerned most about not having enough HR staff to complete their necessary tasks. This is followed closely by 56 percent who fear not being able to keep up on their work.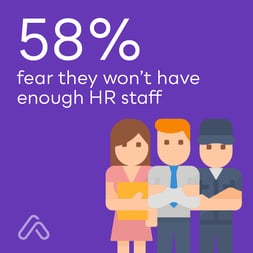 As it relates to the issue of budgets as mentioned previously, we see here that only 21 percent of respondents report being concerned about having their budget cut. And while most don't fear having a reduction in their operating budget, their workload remains a significant source of stress.
Naturally, our respondents worry about their workload, but the result of being so busy is that most HR professionals enjoy a high degree of job security. It seems most HR professionals feel quite secure about their position, as 83 percent they don't have significant concerns about losing their jobs.
Tasks/Responsibilities that Cause Stress
Our next question asked respondents to rate the degree of job-related stress they feel when dealing with some of the most common HR tasks and responsibilities. The survey asked: Please rate the degree to which you feel job-related stress about the following.
For those that answered "significant" or "moderate" stress, we've combined their answers into the "high stress" column. For those who responded with "low" or "no" stress," we combined their answers into the "low stress" column. The results are as follows: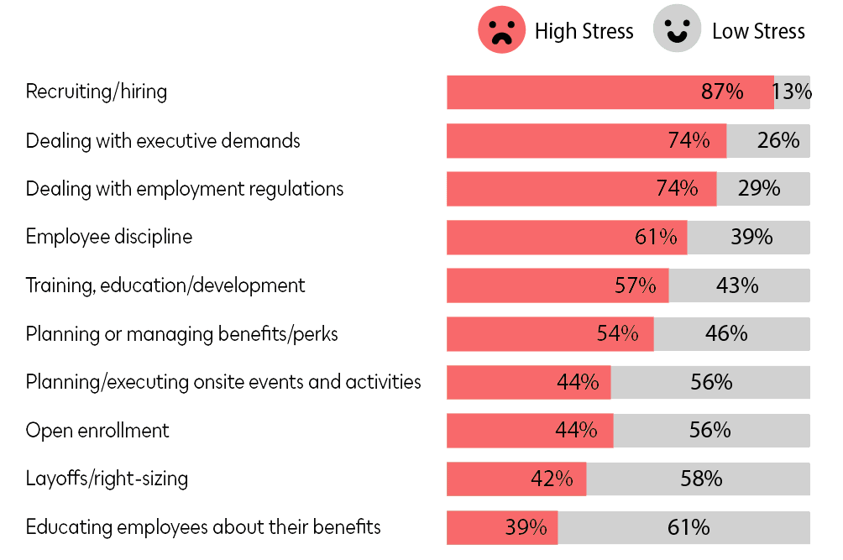 These questions look at the types of specific HR tasks that generate the most stress.
The vast majority of respondents (87 percent) say recruiting/hiring is currently their most significant source of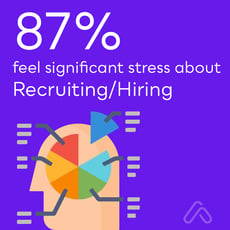 stress. This comes as no big surprise, given the challenges of the current labor shortage and the host of issues related to it. Most HR professionals know what it's like to spend time promoting a critical position and narrowing down a small list of questionably qualified candidates, only to be ghosted on an interview. Or to go through the trouble of vetting a candidate, making an offer, and then discovering they're a no-show on the first day of employment.
The recruiting process is as competitive as we've ever experienced before now. It's anyone's guess how long we'll see recruiting and hiring as the most significant source of stress, but it is likely to resolve itself naturally, slowly, and over a long period of time, unless we experience some type of legislative change or economic disruption.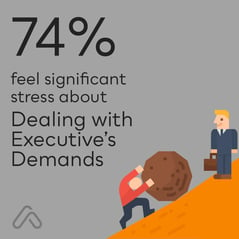 The next most significant stressor is dealing with executive demands. Three out of four respondents (74 percent) say they feel significant stress coming from their executives. This source of stress may well be connected to the labor shortage, as executives put pressure on the HR department to hire key positions. HR must also deal with executives adjusting policies or adding new benefits as a way of becoming more competitive in the race to hire the best candidates.
Close behind the issue of recruiting and the demands of executives is the stress related to regulatory demands. We see 71 percent of respondents say they feel stressed from having to deal with employment regulations. This stressor is not likely to go away soon, either.
At the bottom of the list of stressors is the responsibility of educating employees about their benefits, dealing with layoffs, and the seasonal open enrollment process.
Value Statements Related to On-the-Job Stress
The survey next asked respondents to agree or disagree with a series of value statements, each is either directly or indirectly related to causing stress.
In the interest of simplifying the results, we've excluded answers where respondents neither agree nor disagree. The survey asked: Please rate your agreement or disagreement with the following statements: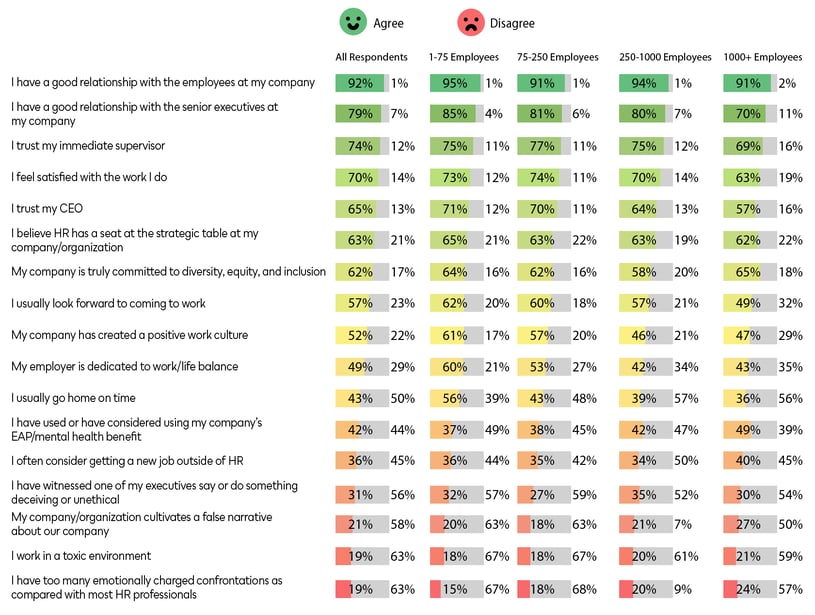 As far as HR's relationship with other employees, the good news is that 92 percent of HR professionals report they have a good relationship with their employees. We also see 70 percent as having a good relationship with senior executives, and 65 percent who trust their CEO.
While respondents generally trust their CEO, as we break out the data by the number of years in HR, we see an interesting gap For those with five years or less in the business, 60 percent report they trust their CEO, yet of those with twenty years or more experience in HR, 68 percent report they trust their CEO. This statistically significant difference is likely a result of proximity, as those with more experience tend to have more frequent encounters with the CEO than those just starting out. Another contributing factor may have more to do with generational differences, than the trustworthiness of the CEO.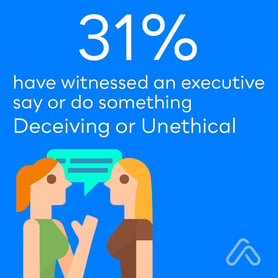 Relating to the matter of trust, we see 31 percent of HR professionals admit they have witnessed one of their executives "say or do something deceiving or unethical." Unethical behavior can have a long-term, even permanent toxic impact on a company and its employees. But dishonesty at the highest levels can be especially difficult for those in HR, who typically are the first to deal with issues relating to a general lack of trust. Distrust of management is often manifested in complaints, low employee engagement, high turnover, poor employee relations, etc. Sooner or later, it's likely to end up in the lap of HR, becoming a drain on HR's resources and staff.
We also discovered that not quite half (49 percent) of all HR professionals believe their company is "truly committed" to work/life balance. Roughly 43 percent of those working in HR report they usually go home on time. We began to see a pattern emerge among HR staff who report they go home on time and increased stress among those who don't. The study reveals that HR professionals that don't go home on time are 70 percent more likely to feel dissatisfied with the work they do, 81 percent more likely to have "too many emotionally charged confrontations," and 99 percent less likely to "look forward to coming to work." (See the associated article and infographic: What's at Risk when HR Professionals Don't Go Home on Time?)
The baseline results from this study will be used to help us identify trends when compared to the data from our future surveys.
HR and mental health
The impact of stress can be manifested in many ways. Absenteeism, conflict at home, poor job performance, alcohol, and drug abuse, depression/anxiety, and sadly suicide.
The CDC estimates the annual impact of stress-related absenteeism costs our economy well over $225 billion, or more than $1600 per employee.
It's not a new phenomenon, as employers have been dealing with job-related stress for decades. After World War II, many employers were facing worker shortages but found many returning veterans were turning to alcohol to deal with their stress. As companies found it was more cost-effective to treat these workers rather than fire them, employers developed their own "In-house Occupational Alcoholism Programs (OAPs). These programs are the precursors to today's Employee Assistance Programs (EAPs).
Shortly after the federal drug-free workplace laws went into effect in 1985, about 68 percent of corporate employers offered an EAP. Fast forward to 2015, when 79% were offering an EAP. It has only been recently that the percentage has grown rapidly to 91 percent of employers that now offer their employees free access to an EAP.
While access to EAP/mental health benefits has room for improvement, utilization still remains dismal. According to most sources, utilization hovers at a dismal 4.5 percent to 5 percent.
This study shows that most of the low utilization comes from a lack of trust among employees, along with the persistent stigma related to mental health issues being viewed as a character flaw or "moral failing," A study by the American Psychiatric Association revealed that nearly half of workers report concerns over discussing mental health issues in the workplace, and one-third of those employees fear retribution or consequences if they seek help. Anti-stigma campaigns have been shown to improve utilization by as much as 11% in some cases.
What does optimal utilization look like? This Minnesota EAP firm estimates that 15 to 30 percent of employees need mental health assistance at any given time. That means the gap between the potential need and actual utilization is quite significant.
So what about those who work in HR? How can you move this issue beyond conversation to actually help improve mental health at your company?
To boost utilization, why not start with a strategy to increase usage among employees? And what better place to start than with encouraging HR professionals to overcome their fears, and use the EAP benefit when it's appropriate.
And how do we know HR professionals need their EAP?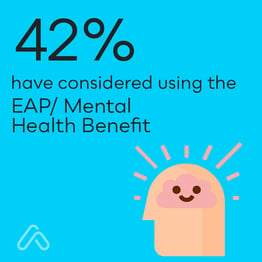 Our study found that 42 percent of HR professionals have used, or have considered using their company's EAP/mental health benefit. We didn't ask respondents to identify if they used their EAP benefit, fearing many would not be fully forthcoming about such a private issue. But assuming HR professionals utilize the EAP at or near the 5% rate, there's still plenty of room for improvement.
Investing in Employees
We then asked respondents to rate their satisfaction with how their company invests in the things that matter most to employees and potential employees. They were given a choice between these five answers: "very satisfied," "satisfied", "neither," "dissatisfied," and "very dissatisfied." We combined all "satisfied" responses in the first column and all the "dissatisfied" responses in the second column. For our purposes here, the first two columns exclude those that replied "neither."
The survey asked: When it comes to how your company/organization invests in its employees, please indicate your satisfaction with the following: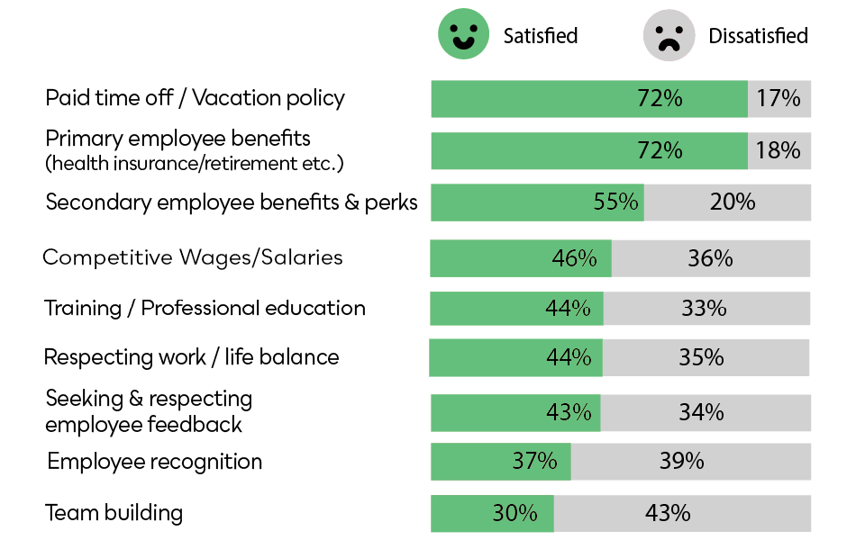 This question gets to the heart of whether or not an HR professional believes their company has invested enough in its employees and company culture. If the company's benefits and perks lack value, HR will usually be responsible for dealing with those deficiencies.
Respondents appear to be most pleased with their company's PTO/vacation policy and their primary employee benefits. However, only 46 percent of respondents report being satisfied with the wages and salaries they offer, and another 17 percent answered "neither." For the majority of HR professionals – 53 percent – believe their company's wages and salaries were mediocre, at best. This matters to HR professionals because it limits their ability to keep and compete for top candidates.
When compared to how respondents rated their primary employee benefits with their lifestyle and secondary benefits, we see a 17-point gap between the two. 45 percent of respondents report being mostly satisfied with the company's investment in these secondary benefits. These lifestyle benefits have become a key area where companies can differentiate themselves, as a truly popular benefit can add significant value to your overall suite of employee benefits.
Team building, employee recognition, and respecting work/life balance all show overall dissatisfaction. According to this survey, only 30 percent of HR professionals report satisfaction with their company's "willingness to seek and respect employee feedback."
What's Your Take?
We invite you to share your insights and opinion about his study. What's causing you the most stress in your HR position? Is there anything you've found surprising in this data? Add your comments below.
About Access Perks®
As a division of Access Development®, Access Perks is a value-added lifestyle benefit that helps thousands of HR professionals, benefits specialists, and employers boost employee engagement, recruiting, and retention. Using America's largest, private discount network, Access Perks is a unique employee discount program delivering deep discounts on everyday purchases such as at popular sit-down restaurants, department stores, and online retailers, as well as discounts on things like groceries, gas, pizza, oil changes, hotels, theme parks, cell phones, etc. With over 1 million contracted locations globally, employees who use the program regularly can save upwards of $1,000 or more per year, regardless of where they llive, work, or travel. To learn more, go here.
---

Creative Commons Attribution-ShareAlike (CC BY-SA) This license permits remixing, repurposing and building upon this work providing "Access Perks®, HR Stress Index" is clearly and obviously credited. Any new creation that references, or is derived, in whole or in part, from this work, must also be licensed using the identical terms. All other permissions requests must contact:
Gary W. Toyn c/o Access Perks
1012 W. Beardsley Place
Salt Lake City, UT 84109
888-438-2318