Summary
36 million baby boomers (1 out of 5 employees in the workforce) are poised to retire in the next few years.

Many employers mistakenly assume a retiree's "sell by" date is fixed at age 65.

Companies are no longer locked into giving retirees a binary choice between working full-time or retiring full-time.

See our list of 10 ways to successfully plan for the "Silver Tsunami"
About a 6 min. read
With so much economic uncertainty facing all of us, HR /People Ops folks have plenty on their plate. From labor shortages, rising health care costs, or the increasing lack of job security, there's enough to keep us all awake at night.
Add to that long list of concerns is the "Silver Tsunami," the retirement of millions of baby boomers.
Of the 70 million baby boomers born from 1946-1964, a whopping 36 million of them are still working. They account for one out of every five employees in the labor force, and they'll be leaving the workforce in droves over the next few years.
If you think the labor shortage is bad now, just wait until nearly all the baby boomers have retired.
Why care so much about baby boomers? Let's start with their impact on the economy.
But before you think boomers are living in the lap of luxury, many are facing some unique and daunting challenges. For example:
Boomers have always looked at retirement with both anticipation and trepidation. So much has changed from the time their parents retired. Gone are the days when employers offered their retiring employees a lifelong pension. As of March 2021, only 3% of employees had access to a pension plan. Now boomers must become investment managers trying their best to grow their 401-K, and hoping they'll have enough to retire.
It was complicated enough…then along came the pandemic.
Prior to the pandemic, the average U.S. retirement age was 64, as only 24% of U.S. retirees waited until they were at least 65 to retire. During the pandemic, an estimated 3 million boomers opted to retire earlier than they had planned, due to things like layoffs and the risks of working in close proximity to other employees. It not only left a big hole in the labor market, but many retirees were financially unprepared.
Since that "great resignation," the U.S. Labor Department estimates that 1.5 million retirees have "unretired," although the majority have returned to part-time work.
Deciding to decide
With so much at stake, boomers are terrified of pulling the trigger on the decision to retire.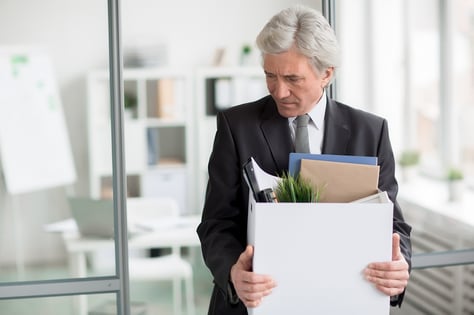 And who can blame them?
Many are waiting for the 401K investments to bounce back. Others are waiting because they want to maximize their Social Security retirement benefit by waiting until the full retirement age of 66. (Or, for those born after 1960, age 67.) Retiring before full retirement age can have some long-term consequences, as the decisions made at age 64 will directly impact their income and lifestyle at age 74, 84, and beyond.
Fortunately, boomers are much better suited physically to work later in life thanks to advances in healthcare, food safety, diet, exercise, etc. – especially when you consider retirees in 1935 when the Social Security rules were established. Back then, the average American lived to age 60.7. Today, the average life expectancy is 78.8.
While baby boomers may be physically able to work later in their life, many are insisting they'll hold off retirement until they're 70. A Gallup poll revealed that 74% of boomers say they plan to work past the age of retirement.
But it doesn't always work out that way. The 2020 U.S. Census shows that of all boomers aged 65-74, only 26.6% are still working, and just 18% are working full-time.
There's a lot riding on when your baby boomers retire, which makes it even more of a challenge for businesses to make sense of it all.
For HR professionals wondering how best the navigate the "silver tsunami," here is our list of 10 ways to avoid getting blindsided by baby boomer retirements.
1- Develop flexible and phased retirement transition options
Offering flexible retirement options is not how most of us have been conditioned to think, as our traditional mindset is to give retirees two choices: work full-time or retire full-time. But there are options – better ones – if you're open to them. Here are a few popular alternative retirement strategies:
1) Phased Exit. This option formalizes a path from full employment to part-time, with annual reductions such as 100-90-80-70% or a similar variation.
2) Partial Exit. The retiree's schedule transitions from 100% to 75% over one or two years. The percentages and timeframe can vary depending on the circumstances.
3) Gig Exit. Many companies take advantage of gig workers who are given a specific task and paid a competitive wage. It makes sense to give retired or rehired workers a similar work arrangement.
4) Mentoring. Knowledge transfer can occur in multiple ways, and a mentoring agreement allows retirees to redefine their job responsibilities to include specific mentoring tasks.
2-Formalize a succession plan
Long before you're faced with the retirement of a key position, you should be cultivating your internal pipeline for such roles. Admittedly, succession planning is not always easy. It often requires awkward conversations and uncomfortable decisions. It also requires forethought, planning, and a commitment to executing that plan over time.
As you solidify your internal pipeline, it can generate many side benefits, like promoting retention among your key employees. When candidates see that they have a clear and established path to promotion, it can make it easier to recruit top talent. As you commit to training and mentoring these people, they learn the hard and soft skills needed to succeed, and your company will be far better prepared to maintain optimum performance whenever your boomers retire.
Formalizing a succession plan is especially critical for companies that prefer to hire internally for key leadership positions. When you know an executive is going to retire, have them train, prepare and make the transition with their successor. HR should meet regularly with pre-retirees and their replacements to facilitate a proper handoff of duties. Invest enough time and resources so retirees can communicate a full understanding of not only the responsibilities, but the scope of the job and the metrics used to measure success.
3- Capture and transfer institutional knowledge
When it comes to protecting the years of accumulated knowledge of a soon-to-be retiree, especially for key positions, the best strategy is to plan for a pre-retirement period of 12 to 18 months before they actually retire. During this process, it's critical to capture and transfer their knowledge to the rest of your workforce.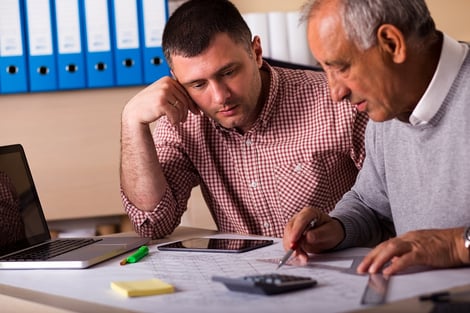 This transfer process should go well beyond listing the superficial tasks but should delve deep into explanations of why systems exist, how your company competes and your competitive advantages and disadvantages, the causes of why key initiatives failed or didn't meet expectations, and what ideas retirees had wished they could have done differently.
Such experience is a valuable source of intelligence and should be revered and leveraged. If managed well, you can protect your company's institutional memory by taking the time to get it formalized and documented. This expertise and wisdom can often be an intangible factor that can help your business succeed long after your retiree has turned in their badge.
4-
Require or incentivize financial wellness counseling
Most EAPs now offer financial wellness, but often the challenge is getting employees to see why financial wellness is so important. Many boomers don't realize they need help to navigate the minefield of investment and money management questions that inevitably lead up to their retirement. Requiring or incentivizing pre-retirement financial wellness counseling can go a long way toward making that transition easier for all parties involved. And when they feel they are well prepared for their eventual retirement, they are likely to be more productive.
5- Be creative/flexible in incentivizing boomers to stay on longer
Once a boomer retires, it often causes a domino effect that leads to a shifting of the retiree's responsibilities to existing employees, replacing employees that have been promoted, and hiring new employees to fill the skills gap.
One strategy to help fill that gap is to incentivize baby boomers to delay full retirement and stay on longer but in a modified role. You can also rehire your retirees who are bored with retirement, looking for more fulfillment, or maybe just looking to supplement their income.
Some may be open to being lured back to work under the right circumstances. Yet it requires some creativity. While a 40-hour work week may not be a compelling proposition, returning to a part-time or consulting role may be just what they need. You could also offer remote work options, compressed schedules, appropriate flextime, or any combination thereof. This gives pre-retirees greater options and allows them to be productive for longer.
6- Crush ageist stereotypes
Ageism is a form of discrimination that is too often ignored, as many consider it harmless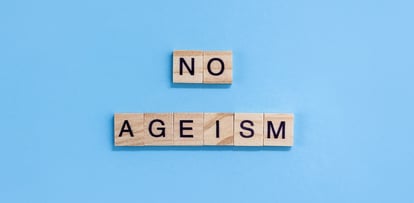 We've all heard comments like "boomers are set in their ways," or "they can't work fast." But ageism also applies to younger workers as well. Comments about Millennials being "lazy" or "entitled" are not only hurtful but certainly don't apply to everyone.
As an HR professional, you know how dangerous it can be to permit generalizations and oversimplified characterizations about any group of people. It's never appropriate to turn a blind eye to employees who attempt to make good-natured fun of a group of people based simply on the decade they were born.
7- Prepare for higher healthcare costs

.
If your boomers delay retirement, it's possible that it may impact your company's healthcare costs. Statistically, as people age, their healthcare utilization increases. Plan now for potentially higher healthcare costs so you can remain competitive with your health benefits offering.
8- Prepare for increases in Social Security contributions.
Today there are 79% fewer workers supporting the Social Security system as compared to 1950. That means congress is likely to shift additional costs to you and your employees to support the growing number of retirees. If your company is forced to absorb a significant increase in Social Security contributions, how well will your company be able to manage those additional costs?
9-

Encourage face-to-face relationship building

Baby boomers are digital immigrants, and many tend to prefer interpersonal relationships built on frequent face-to-face conversations where they've learned to discern non-verbal social cues. Conversely, many digital natives have developed specialized skills to pick up on digital social queues but may otherwise have fewer face-to-face communications in lieu of sending a Slack/Teams message or an email.

When training new leaders, (many of whom will be digital natives,) remind them to seek out opportunities to build stronger, more personal relationships with colleagues. Help them see the importance of informal, face-to-face personal conversations, and help them develop these interpersonal skills if they lack them.
10-Protect your brand reputation with a quality candidate experience
Baby boomer retirements are only part of the reason for the labor shortage, but whether you're re-hiring boomers or hiring early-career Millennials, it's likely that HR professionals will continue to face hiring challenges for the foreseeable future. As such, it makes no sense to handicap yourself by mistreating anyone in your candidate pool.
Neglecting or ignoring inquiries, failing to keep candidates informed about the hiring process, or otherwise giving applicants reasons to complain about your company is a bad idea. A poor experience with your company will likely result in a bad review on Glassdoor, Indeed, and other hiring sites. (And who needs that?)
Instead, protect your hard-earned reputation by treating all your candidates with the utmost respect and dignity.
Will you be ready?
Baby boomers are now age 58 or older. That leaves about six to eight years before the majority of them will leave the workforce. With roughly 10,000 baby boomers retiring each day, it's important for HR professionals to stay ahead of the curve.
It's not enough to simply be aware that a wave of baby boomer retirements is inevitable. It's far more important that your logistical plan stay up-to-date and flexible, so you're not hit with any surprises.
Is your company ready?
What are your thoughts?
What plans have you implemented to prepare for the silver tsunami?
Have I missed anything? I'd love to see your comments below.