Summary
History tells us about the dangers of unchecked inflation, and how it reduces employee disposable income, diminishes their quality of life, and impacts your company's profitability.
The ongoing spike in the inflation index has a direct impact on your employee's buying power, and will eventually lead to employees demanding higher wages.
A creative, non-wage bonus or benefit can appease the immediate demand for higher wages, without incurring a long-term wage obligation.
See our curated list of 20 employee bonuses and lifestyle benefits that can help you offset the impact of inflation, without increasing wages.
Inflation's Impact on the Economy: A quick history
"History doesn't repeat itself, but it often rhymes," is Mark Twain's oft misquoted adage. Regardless of who said it, it still rings true. Especially when it comes to inflation.
History teaches us that uncontrolled inflation, manifested by increasing consumer prices, is usually a bad thing. I'll forego the arguments that inflation can have temporary benefits, but from a practical standpoint, the impact of inflation on everyday workers –and especially those at the lower end of the pay scale –means that as prices increase, workers' buying power declines.
What happens when inflation is out of control?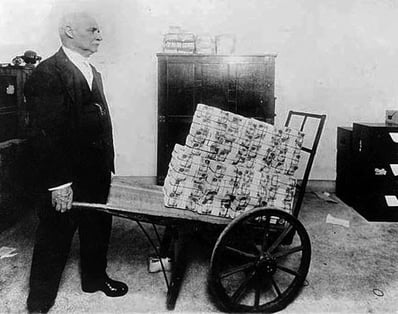 After World War I, Germany's obligations to pay war reparations led to their printing tons of money to pay their debts. With the exploding supply of the German currency, the value of the German Mark on foreign markets declined, leading to hyperinflation.
As inflation rates exploded, Germans needed a wheelbarrow of money to buy a single loaf of bread.
And let's not forget a more "recent" history, as some of us seasoned folks remember the double-digit inflation years from 1978-1982. Inflation peaked at 14.8 percent in the spring of 1980, and the misery lasted for four uncomfortable years. Inflation surged and the GDP became stagnant, thus spawning a new term: stagflation. It was caused by the central bank's increasing the money supply, along with the supply of consumer goods being limited because of a number of often unrelated economic reasons. (Sound familiar?)
If left unchecked, inflation can persist, causing cyclical forces to drive consumer prices even higher. This then drives employee compensation higher as an adjustment for inflation, and the economy cycles into hyperinflation, or potentially something worse.
While very few economists are predicting an impending hyperinflation cycle, economists and pundits have also brushed aside the threat of inflation, even calling these warnings "a mirage." Federal Reserve Chair Jerome Powell insisted inflation was a "temporary trend," and a New York Times op-ed piece argued that inflation was "par for the course, historically speaking," and offered their 179 reasons not to panic about inflation.
But then the Bureau of Labor Statistics reported inflation rates are at their highest rates since 1982. Energy prices are up at least 30 percent, with gasoline jumping a staggering 50 percent year over year.
The Perfect Storm
While many economists were wrong about their inflationary predictions, in their defense, who could have predicted the "perfect storm" of events that happened simultaneously to drive inflation?
The pandemic alone would have been enough to send any economy reeling. COVID-19 mitigation strategies were blamed for the drop in production of goods and services, as lockdowns forced many factories to slam the breaks on production, or even shutter their doors.
As production waned, consumer demand from home-bound households began an unprecedented buildup, potentially exacerbated by Federal programs designed to jump-start the economy. According to the Congressional Research Office, stimulus checks were a driving force in spurring consumer spending in 2020 and early 2021. While it helped many businesses remain solvent, those consumer dollars were chasing fewer goods, driving up consumer prices on everything from food and gas to vehicles and other commodities. This created the classic recipe for inflation: low supply/high demand.
To make matters worse, accelerated baby boomer retirements combined with the great resignation — spurred labor shortages, intensifying the war for talent, and bidding up the cost of labor in products across the board.
By all indications, inflation is here at least for a while, and it's behaving like that obnoxious ex that just won't take a hint to move on.
How much is inflation impacting your employees' purchasing power?
Purchasing power is basically the growth or reduction in how much a consumer can buy with their money. Consumers lose purchasing power when prices go up, especially when their paychecks remain stagnant.
The latest (November 2022) 12-month, year-over-year change in the Bureau of Labor Statistics consumer price index increased 7.1% across the board. However, food staples like poultry, beef, fish, and eggs are up as much as 12%. Apparel is up 3.6%, food at restaurants is up 8.5%, and gasoline is up 10% year over year.
For some economists, the BLS consumer price index is less accurate because it doesn't factor in things like the quality of goods and services, and because it tends to measure urban consumers over those living in suburban or rural areas. That's why the Federal Reserve uses an index reported by the Bureau of Economic Analysis called the "Personal Consumption Expenditures Price Index." Its latest July 2022 index shows a 6.3% increase month-over-month.
Just how much purchasing power have consumers lost?
According to government statistics, the mean or "average" consumer makes $74,949 after taxes. Using the more conservative Bureau of Economic Analysis inflation rate, that employee lost $3,747 in purchasing power in just 12 months. Employees earning $45,000 annually lost $2,250.
With as many as 78% of workers living paycheck to paycheck, this seemingly modest rise in inflation can mean the difference between paying rent, making a loan payment, or paying for childcare.
Employers Respond to Inflationary Warnings
Some employers have already responded to inflation and have offered a higher-than-usual pay raise to help boost employee retention, bolster morale and keep pesky talent poachers at bay. However, according to the Conference Board, overall salary increases in 2021 have averaged just 3 percent. For 2022 projections are again for just a 3% increase. While that's in line with the pay raises offered over the past decade, it ignores an actual decline in overall wage increases in 2020, which was the first decline in more than ten years.
A recent SHRM article pointed out that despite these modest pay raises, it's still not enough to offset inflation. We can expect increasing calls from employee and labor groups to intensify their demand for a significant cost-of-living increase in 2022, and beyond.
HR professionals are well aware of the risk of not keeping your employees' pay at or above market rates. A recent PayScale study revealed that 51 percent of workers believe they make less than what is typical for their position in the market. When employees believe they are underpaid (whether or not it's based in fact), they are far more likely to seek employment elsewhere.
Inflationary pressures also exacerbate salary expectations in general. The Federal Reserve Bank in New York tracks the average lowest salary that American job seekers are willing to accept for a new job. That rate has jumped 16 percent in the past year, going from $61K to $71K within a twelve-month period. People are expecting higher wages, even if they're not fully qualified for those wages.
That means CFOs are on the frontlines in the battle to address and/or mitigate workplace pressures for raising wages. A recent study of global CFOs revealed that 57 percent anticipate labor costs will increase next year, more than other business-related costs including raw materials, shipping, cybersecurity, and the costs of mitigating the effects of COVID-19.
For most employers, offering a double-digit wage increase is simply not possible. But companies who ignore what inflation is doing to their employees' buying power will face a whole new set of risks that will impact both recruiting and retention.
So what can employers do?
Finding new and creative ways to offer a pay increase
While some companies face immediate needs to keep wages in line with the market, many others have the luxury of kicking the can down the road a bit, just to see if inflation will be short-lived or not. In those cases, you can offer a non-wage bonus or benefit to help appease the immediate demand for higher wages, without incurring a long-term wage obligation.
With so many perks and lifestyle benefits to choose from, it's hard for HR professionals to research all potential options for short-term bonuses, let alone vet which ones would work with your company. Here are 20 ways to offer your employees a non-wage bonus, and help them offset the impact of inflation.
1- Employee Discount Program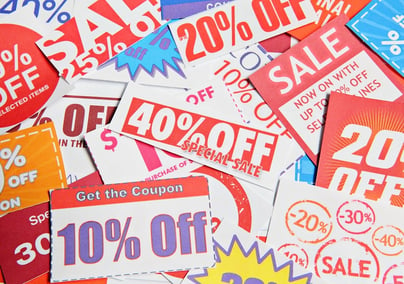 We'll start the list with our obvious favorite option, an employee discount program. With inflation rates at historic highs, a quality discount program can deliver meaningful, everyday savings that can help take away some of the sting that comes from higher consumer prices. The best employee discount programs are not only affordable, but are easy for HR teams to manage, plus they deliver a great ROI. By offering employees a way to boost their purchasing power and stretch their paychecks, employees can save at everyday places like local restaurants, popular big-box stores, theme parks, grocery stores, auto service centers, home and garden suppliers, hotels, and other travel-related providers. Depending on the size of your company, you can get a year-long subscription for the price of a candy bar per employee per month. Check out this free guide to employee discount programs.
2- Student-Debt Reduction Bonus
Some companies are giving a one-time student debt-reduction bonus. The financial services firm Fidelity Investments is one of a growing number of employers offering to help employees pay off student loan debt, contributing up to $10,000 per employee for student loan repayment. Fidelity boasts it has helped its employees save over $38 million in student loans by limiting to total loan length and lowering the total interest owed.
3- Tuition Reimbursement Bonus
A long time ago, someone smart decided to encourage their employees to further their education and also pay their tuition. What they found was these employees were more loyal, more productive, and more engaged. Cigna, in cooperation with Accenture and the Lumina Foundation, discovered that their tuition reimbursement plan delivered a 129 percent return on investment. It has also served to help them recruit some of their most high-demand positions.
4- New Home Down Payment Bonus
A Canadian firm is one of a growing number of employers providing their employees with up to $20,000 to use as a down payment on their first home. To qualify, employees typically must be employed for at least a year, and must also meet other minimum qualifications. They also require employees to stay with the company for three years. For those who can qualify, the bonus helps prevent employees from resigning because they can't afford a home, especially in the more expensive urban areas. It has also helped reduce the overall turnover of their most valued employees.
5- Family Forming Bonus
According to a recent study by the nonprofit International Foundation of Employee Benefit Plans (IFEBP), 14 percent of employers now provide financial assistance to help with forming a family. These benefits range from infertility diagnosis, treatment and medication, intrauterine insemination and IVF, to plans that cover egg freezing, the procurement of donor eggs or embryos, and gestational surrogacy.
6- Elder Care Support Bonus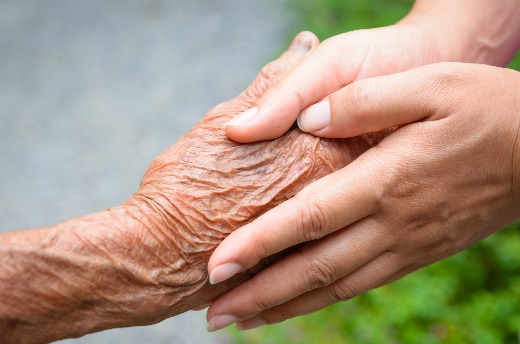 Caregivers who work full-time are especially vulnerable to dangerous levels of stress and anxiety. Roughly 60 percent of caregivers have experienced at least one caregiving-related incident at work, such as working reduced hours, taking a leave of absence, or being warned about poor attendance or performance as a direct result of being a caregiver. According to this report by Torchlight, roughly 88 percent of US employees care for a loved one who is aging in place. This bonus not only includes time off to care for an aging parent but also provides access to aging resources, like legal or medical advice. It can all go to help caregivers worry less, and be more productive when they are working.
7- Pound of Flesh Bonus
Preventative care has become mainstream, but a new twist is for employers to offer significant bonuses to employees for staying healthy or losing weight. Employees at weight-loss company NOOM are offered a monthly $200 cash bonus — or $2,400 annually for keeping fit. The bonus is added to their direct deposit statement on their paycheck, and can be used for anything health-related, "including weight-loss programs, massages, workout classes, etc." Other employers are choosing to promote personal wellness through subsidizing biometric screening (height, weight, glucose, blood pressure, lipid profile, etc.) others have subsidized the purchase of in-home exercise equipment or gym memberships.
8- Bonus PTO
Paid time off is likely the most appreciated benefit of all, and it can come in many forms. From paid sabbaticals, birthday PTO and summer Fridays off; to things like a four-day workweek or PTO for off-site volunteering at a qualified charitable organization. You can give your employees a significant bonus by paying them to do something productive while they're not at work. Not only will this have a powerful impact on your employees' focus, but on their well-being and productivity as well.
9- Appreciation Bonus
Companies like Whole Foods are offering hourly employees a one-time "appreciation" bonus of $2-$3 per hour, depending on their role. It's a way to compete for front-line workers that are in such short supply. Additionally, Whole Foods also provides a 20 percent in-store discount, or 30 percent after employees reach six months of service.
10- Spotify / Headspace subscriptions
Many employees listen to music during their focus time, and a subscription to Spotify Premium can be an addicting benefit that will not only get used but also generate a lot of goodwill. Likewise, Headspace and Ginger are popular meditation apps that can help your employees manage stress and learn how to focus on what's important. A free subscription can lead to greater employee mental health and stress reduction.
11- Pet Insurance Bonus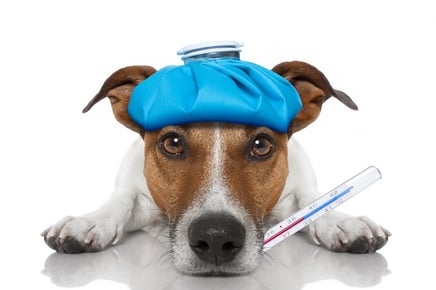 With 67 percent of American homes having a pet, more and more companies are adding pet insurance to their existing suite of benefits. For pets with significant medical problems, vet bills can cost thousands of dollars. These employer-sponsored policies cover wellness exams, shots, chronic conditions, and acute illnesses and injuries. Most pet insurances offer an option to cover a portion or all of a pet's medical expenses, with benefits specified for things like accidents, illnesses, and hereditary conditions. Companies are paying these premiums outright, or are simply offering discounted rates.
12- Corporate Cell Phone Plans
For larger employers that have negotiated a discounted rate for their business cell phone service, that discount can also be given to employees. Your company can choose to pay all or a portion of the employees' monthly service, or they can simply take advantage of your corporate discount, which could add up to hundreds, if not thousands of dollars per year.
13- Child Care Reimbursement Bonus
Roughly 63 percent of American families have both parents working full-time, yet only 6 percent of employers offer some form of childcare benefit. Single parents especially face a financial double-edged sword when it comes to expensive childcare: they can't live with it because it's too expensive, and they can't work without it. Childcare benefits can include on-site childcare, childcare subsidies, flexible schedules, or the opposite–predictable schedules, back-up childcare assistance, or childcare-related Flexible Spending Accounts.
14- Employee Equity Plan Bonus
Whether you want to offer an ISO (incentive stock option) or an NQSO (non-qualified stock option), employee stock purchase plans can offer significant benefits to your employees, making them owners that invest in the future of your business, and reward them for their hard work. For companies that aren't traded publicly, profit-sharing plans can also accomplish the same levels of employee engagement. If you're looking for someone who administers such a plan, companies like Computershare can help advise you on the best solution for your company.
15- At-Home Massage/Chiropractic Bonus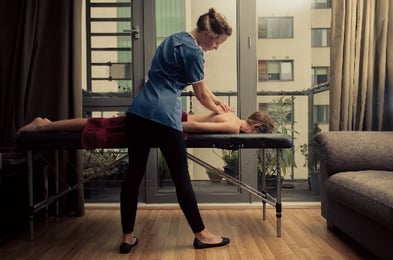 Mobile massage networks like Zeel, offer on-demand, licensed, insured, and "carefully vetted" massage therapists that can appear on your employees' home, (or in the office) in as little as an hour. It's a powerful bonus with high perceived value, yet at a relatively low cost. You can also connect with one of many networks of chiropractors or osteopaths who offer vouchers or memberships. That way, you can help employees overcome their chronic back pain from sitting in Zoom meetings all day.
16- Offer a Holistic Financial Wellness Program
This study focuses on the state of workplace wellness, found 25 percent of employees find their personal financial issues are a distraction at work. Offering a holistic financial wellness program offers important tools like an interactive budgeting tool, student loan payoff tool, live counselors to talk about investing, taxes, retirement planning, building a financial reserve, etc. Organizations like Enrich Financial Wellness Program offers popular interactive courses, as well as interactive tools that will help your employees worry less about their finances, and more about their jobs.
17- Travel / Entertainment Bonus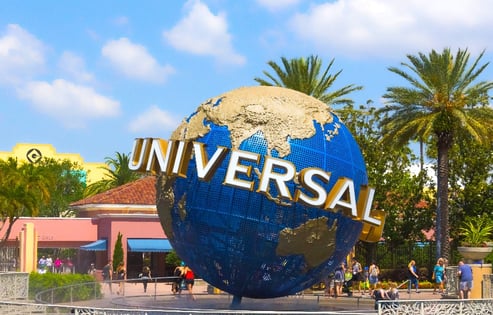 To encourage your employees to take a much-needed break, you have a wide range of options to consider, such as giving them free tickets to popular vacation destinations like Disney® or Universal® theme parks. If you have a good employee discount program, you could also obtain discounted rates on hotels, car rentals, and airfare, just to sweeten the deal. Another idea to consider is giving your employees free admission to U.S. national parks, which includes entry to 2,000+ federal recreation sites, all for one low cost.
18- Paid industry certifications
Some work-related certifications are not only time-consuming but expensive. Encourage employees to earn proof of their new skills, and foster a culture where accreditation is important. Enough so that you're willing to pay for these courses as a bonus.
19- Investment Club Bonus
Better Investing offers a step-by-step guide for starting an investment club. By using an outside source, companies can maintain an arms-length relationship with the club, yet still offer employees a bonus or stipend that can be directed to the investment club. Employees are taught how to set up a brokerage account, establish rules and procedures, and make investment decisions using real money. Sharing investment decisions and responsibilities with a group is a great way to teach employees what they need to know to become wise, independent investors.
20- Charitable Contribution Bonus
Employer matching programs have existed for years. Some companies match an employee's charitable contribution 1:1, or even 2:1 or 3:1. But sometimes employees don't have the means to make a meaningful contribution of their own to even qualify for the company match. Even though they want to give to a cause they care about, they're just not yet in a financial position to do so. As a bonus, you can offer to donate (in their name, or as a shared contribution), to a cause an employee cares about.
* * * *
While some of these bonuses may come with tax benefits or consequences, others may not be appropriate for your regulatory environment. Make sure you consult with your tax advisor or attorney about how best to make it work for your company.
Let's hear from you
This list of creative ways to compensate your employees surely isn't exhaustive, so if you've implemented an innovative benefit, or if you're thinking about new ways to enhance your compensation package, we want to hear about it. Leave your comments below so everyone can benefit.