To be honest, there were a couple years that we didn't pursue workplace awards too heavily.
We knew Access Development (parent company of Access Perks) was a great place to work and that our employees were an engaged and motivated group. We knew our benefits and perks were up to snuff and employees were given the tools necessary to achieve their best.
We just didn't want to bug them with surveys, or ask them to do interviews with researchers (as is required by some recognition programs). Some of these organizations ask for essays. Others want extensive demographic data.
In other words, these awards can be a lot to slog through just so someone else can tell you what you already know.
Why is it then that Access has won five such awards in the past year?
What changed our thinking?
What makes these awards valuable for companies like ours - and yours?
The Real Value of "Best Places to Work" Awards
They Help with Recruitment
Part of why we changed our thinking on workplace recognition programs was a realization of how many of our current employees initially found the company through these awards. They're often arranged by media companies with influence, and that organic exposure is invaluable.
Being able to say a third party publication recognized your business as a great place to work is a heckuva way to start a conversation with a potential employee.
Often enough, you don't have to say it - prospects will find you by searching for "best companies to work for in ______."
They Give You a Pulse on Employees
Most workplace honors are based in part on employee surveys. The data pulled from those surveys is often part of their monetization strategy. They'll usually give you the basic results but ask you to pay for deeper insights and demographic breakdowns.
Employee surveys are expensive, and quite frankly, many employees don't trust internal surveys. Paying for deeper insights from a third party is a worthwhile investment, so long as you're ready to improve on the negative and emphasize the positive.
Even if you don't pay, the basic results are still valuable and worth having.
Worst case scenario is you get a lot of bad feedback from employees and don't make it into the awards. It won't be made public, plus you know areas you need to improve upon.
Customers Want to Work with Good Companies
We talk about this on our customer engagement blog quite often. There are direct correlations between happy employees and happy customers. Engaged employees make personal investments into their work, and that makes a big difference to customers.
It can be difficult for executives to invest in employee perks and benefits because they tend to view it as hard cost with no real return. Most of us know that isn't true at all - but if you need to make the case, focusing on customer revenue can get your foot in the door.
They Build Employee Pride
Knowing you're part of a recognized workplace builds pride. It means you're part of something elite, and can feel like it validates your decision to work for the company.
Of course not every employee is going to care, and an award won't instantly convert a disgruntled curmudgeon into an advocate. It will, however, reinforce the emotional investments made by your most engaged employees.
And some of those crusty folks may reconsider their "grass is greener at another job" notions.
One major aspect of a proud workforce: they'll confidently refer their network to join your workplace as well. That's the easiest recruiting you'll have, plus employees who are referred by a friend tend to stay longer and are more engaged.
How to Leverage "Best Places to Work" Awards
So what happens if you win recognition as a great place to work? First, congratulations!
Second, don't just pat yourself on the back. There's a lot you can do with recognition like this in your tool belt.
Take these five ideas and put them into motion to capitalize on a golden opportunity:
Don't be shy! Put the award logos on your website, send out a press release, and update your company descriptions on job posting sites. We suggest working it into your customer-facing materials, as well.
There will be some notoriety earned organically, but to truly maximize the effect you'll have to get proactive about talking about the workplace you've built.
Great workplaces constantly raise the bar as engagement and performance increase. Use any negative data you received via the surveys to find weaknesses and address them. You'll never reach a 100% disengagement-proof office, but you can always improve and make life even better for employees.
Borrow Ideas from Fellow Winners
One easy to get better is to borrow ideas from fellow winners. Companies win these awards for a variety of reasons - some invest heavily in perks, others just focus on quality environments. Some industries, especially technology, have standard practices that might work just as well in other verticals.
Some of what they do might work for your company as well.
Don't be shy to borrow or outright steal ideas. Best places to work awards aren't given out based on originality, after all.
Celebrate with Employees (and Customers)
You didn't win the award. Nor did your executives. It belongs to everyone from the bottom up, and everyone involved should be celebrated and rewarded.
Bring a few employees to the awards presentation, and throw a big party at your office. Invite your customers as well, who, to be honest, pay for the whole thing.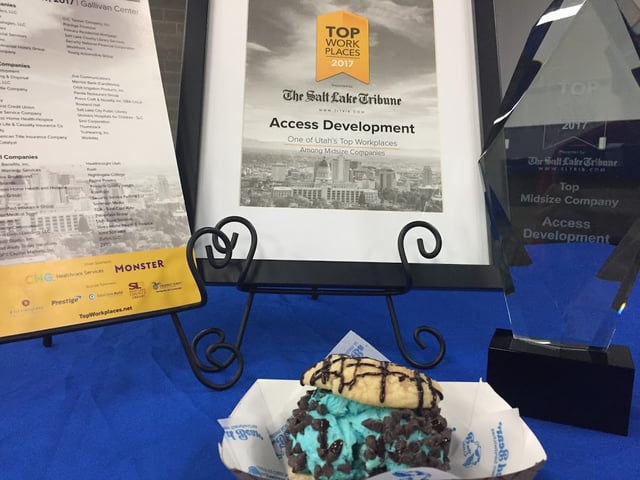 You've got an award and validation of your office-building efforts. You've got employees who are excited. You've got a major attractant to potential employees. Seize the moment!
Remind employees that they're awesome. Solicit more ideas from them, and ask them to get even more involved. Reach out to customers and thank them for the role they play and show them how you can add even more value to their lives. Circle back with previous recruits to see if they might be willing to take a second look at what you can offer.
Nothing to Lose
Are "best places to work" awards really worth pursuing?
They take some time and effort, after all. Employees must be surveyed, essays have to be written, and sometimes there are even hard sales pitches to withstand.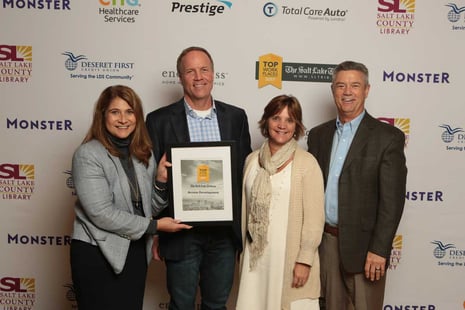 For what, a badge you can put on your website and a plaque to hang in the lobby?
We think there's a lot of value in these awards. Yes they take work, but the payoff is potentially huge.
Even if you don't win, you'll still have specific feedback that can form the basis of improvement, leading to a win the following year.
The validation for your efforts, and those of your employees, is worth it. Recruits will take notice, and so will customers.
There's nothing to lose, really (especially since there's no list of "companies that didn't quite make it").
Step out and put your workplace and employees in the spotlight. They deserve it, and so do you.