Have you heard about the COVID 15? No, we're not talking about a new virus, but about the extra pounds many of us gained during quarantine. Confession: I may or may not still be working to lose mine 2 years later.
People reacted to the stress of quarantine in different ways. Some used extra free time to conquer home workouts and learn to cook healthy meals. Others weren't able to keep up with healthy habits amid new responsibilities they had to juggle.
Why does this matter? Physical health is an essential component of a person's overall wellness.
Here on the Access Perks blog we talk a lot about financial wellness – in part because it's easy for employers to make the connection with their workers. Not only do employers sign paychecks but many also offer employees lifestyle benefits that serve to stretch employees' take-home pay. We're talking about things lke an employee discount programs, investment accounts and even a savings plans.
Then there's employee mental wellness. It's another logical piece of the employer/employee relationship. We know that when employees are stressed, it interferes with performance and productivity. So, we talk about it and search for solutions that'll alleviate some of the stress they're facing.
But what about employees' physical wellness? The connection to an employer might not be as blatant but it is every bit as relevant.
For one thing, healthy living matters to employees. In a survey of 2,000 people, the top three New Year's Resolutions all have to do with physical health and well-being. Respondents said they wanted to eat healthier, exercise more and lose weight. And few things will win more points with your employees than helping them achieve their personal goals.
On top of that, unhealthy employees can get pretty expensive for their employers.
How Much Do Physically Unhealthy Employees Cost Their Employer?
It's no secret that employees with sub-par health contribute to higher healthcare costs. And while some of that may stem from mental health issues, one study found that employees in poor physical health accumulate healthcare expenses more than three times greater than their healthy co-workers.
All things considered, U.S. businesses incur costs to the tune of $530 billion per year that can be chalked up to unhealthy workers.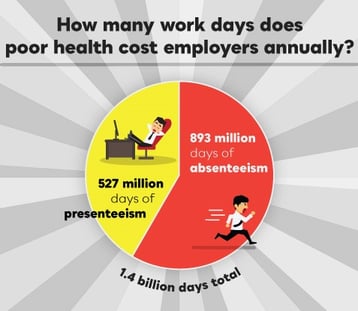 A large portion of those costs stem from presenteeism (when employees come to work but function at reduced capacity due to illness) and absenteeism (when employees miss work altogether as a result of sickness). The Integrated Benefits Institute, a nonprofit health and productivity research organization, did some research and found that employees miss 893 million days annually due to absenteeism – that's sick time, workers' compensation, disability and FMLA benefits. Meanwhile, presenteeism accounts for roughly 527 million lost work days. That's an astonishing 1.4 billion workdays every single year that employers miss out on because their workers are under the weather.
Of course, it's important to keep in mind that people have no control over many ailments: chronic conditions, injuries, illnesses, etc. This article is referring to the healthcare expenses that are a direct result of unhealthy lifestyle choices (like smoking, living a sedentary lifestyle and overworking to the point of stress). These "modifiable risks" are proven to contribute to diabetes, heart disease and other illnesses, and they lead to over a quarter of all healthcare expenses according to University of Michigan research.
Statistically, people who neglect their physical health or make poor health-related choices get sick more often and cost their employers a lot more.
How Does Physical Wellness Impact Employees' Productivity?
It goes without saying that exercise benefits the body's muscles and physical functions. But we don't always consider what else it can do.
"Back in the day, the majority of exercise studies focused on the parts of the body from the neck down, like the heart and lungs," says Ozioma Okonkwo, assistant professor of medicine at the University of Wisconsin School of Medicine and Public Health. "But now we are finding that we need to go north, to the brain, to show the true benefits of a physically active lifestyle on an individual."
For instance, one study found that a little over an hour of exercise a day can reduce the likelihood of individuals genetically prone to Alzheimer's disease developing the illness.
Along with helping prevent disease, exercise improves brain function in a variety of ways. Research conducted at the University of Georgia concluded that exercising for even 20 minutes a day facilitates information processing and memory functions. In other studies, Okonkwo confirmed that people who exercise have greater brain volume in parts of the brain associated with reasoning and executive function. The same studies found a direct correlation with exercise and better moods.
So, any way you look at it, exercise will lead to healthier, happier, more productive employees.
In fact, a recent survey from non-profit research organization RAND and health and wellness solution provider Vitality found that physical exercise could add five days of productivity per employee per year. When you do the math, that's nothing to balk at.
But what about the foods we eat?
The importance of a balanced diet really can't be overstated, but it is often overlooked. In addition to helping employees feel great physically, studies show that with a healthy diet they'll experience more brainpower and higher efficiency.
Diets high in refined sugars can be particularly harmful to the brain. They increase inflammation, worsen the body's regulation of insulin, lead to other imbalances in the body (like oxidative stress) and contribute to the amount of waste in the brain. On the flip side, a diet rich in vitamins and minerals nourishes the brain, protects it from injury and leads to improved function and better moods.
How To Encourage Healthy Living Among Employees
With the countless perks that come from living a healthy lifestyle, it's no wonder so many employees set health-related goals and resolutions. The positive consequences from achieving their ambitions are far-reaching.
As for employers? Healthy employees save them money and often generate greater results on the job. It's a win for everyone.
So, how do you do it? At the end of the day, people have the autonomy to make choices regarding their own health. Whether you want to or not, you simply can't force your employees to eat right or hit the gym. However, you can make a huge difference to the ones who want to make healthier choices, but lack the knowledge, resources and/or motivation to accomplish their goals. The truth is, in a world where we suddenly had to learn words like "comorbidities," there are a lot of people with a renewed vigor to adopt healthier lifestyle habits.
You can make it easier for your employees to make healthy choices. Here are 10 ways to incorporate healthy living into your workplace:
Wellness programs with incentives.

Nearly 80% of employers say they offer wellness programs to improve absenteeism and presenteeism. And just how well do they work? According to United Healthcare, 62% of participants in wellness programs say their productivity has improved, 56% have had fewer sick days and 30% say they had a disease detected thanks to these programs. So, of those employees who take part in the programs, many have great results with benefits for the individual and the organization. But one study found that nearly half (46%) of employees said they would only participate in a health and wellness program if they were offered incentives. Rewards could be as simple as drawings for gift cards or monthly discounts on health insurance premiums. Multiple studies have shown that the investment for these incentives and wellness initiatives will be well worth your while, returning anywhere from $1.50-$6 in healthcare savings per dollar spent.

Utilize the resources you already have.

For example, our office sits along a river with a gorgeous walkway beside it. We encourage our employees to get outside often to walk or run on the trail. Some employees take advantage of it daily. Every fall we also host a 5k for employees and their families on the walkway. We get a great turn-out and it's a cost-effective way to bring our employees together for a fitness activity.

Provide fun activities.

Do you have room for a basketball hoop in your warehouse? Or a ping pong table in the breakroom? Our employees like to head outside when the weather is good for a round of cornhole. These items are a relatively cheap investment that, in the case of our people, get used… and used… and used. Most workers love taking a few minutes here and there away from their computer monitor to get active. It helps reboot their system and the friendly competition strengthens co-worker relationships along the way.

Bring in healthy food.

According to one survey, many employees felt food habits at work were an obstacle to health and wellness goals. These included food at office celebrations (30%), snacks brought by co-workers (22%) and free meals (10%). To avoid deterring employees from their personal health goals, try to bring in fresh, nutrient-rich foods when possible. The wellness team at our company provides a healthy snack once a week and sends out a "Think Fit Thursday" email explaining the health benefits of the snack and encouraging employees to head to the break room to get some for themselves.

Share healthy recipes.

In addition to supplying employees with healthy food in the office, there are other means to support healthy diets. One way is to distribute recipes for healthy meals. We at Access do this in our monthly newsletter that is distributed via email to the entire company. If you hold company pot-lucks, you could also encourage employees to share their recipes with each other there.

Teach about nutrition.

The pressure doesn't all have to fall on HR and senior leaders to provide health-conscious ideas. Many employees live healthy lifestyles and have great suggestions that'll benefit others if they're given the opportunity to share. Consider holding "Lunch and Learn" activities monthly or quarterly where employees can gather to discuss an aspect of healthy living over lunch. This doesn't have to cost the company a dime. Attendees bring their own lunch and employees can sign up to present on topics they feel they have expertise to share. All you need to provide is a conference room or other meeting space.

Equip employees with gym passes.

There are a couple ways to do this one. If you have the space, adding an on-site workout facility may be a great long-term option for your organization. And it can't get much more convenient for employees. More commonly, employers reimburse their workers for their membership at a nearby gym. In comparison with other benefits, it doesn't cost much and is often a favorite with employees.

Provide discounts on recreational activities.

Don't be afraid to think outside the box for ideas to help keep employees moving. Would discounted ski passes appeal to your employees? What about special pricing on greens fees at local golf courses? The best employee discount programs may be able to hook your workers up with both. Whether through a formal program or direct negotiations, employees will love deals on recreational opportunities in your area that present creative options for staying active.


On-site Yoga.

Another easy and inexpensive way to incorporate wellness into your workplace is with group yoga sessions. There are several videos or online yoga practices you could play for participants to follow along with. It's a bonus if you've got an employee that's comfortable leading the group. And since yoga can be just as good for the mind as it is for the body, you'll wind up "feeding two birds with one scone" where mental and physical wellness are concerned. Namaste.

Company sponsored events.

Races and fitness events have popped up all over the country in the last decade. It seems like everywhere we turn there are advertisements for 5ks, 10ks, marathons, Spartan races, Dirty Dashes, Ragnar races, bike tours, and the list goes on. One great way to encourage employees to get active is to sponsor a team for one or more of these events in your community. Let the company take care of the entrance fee for the employees who want to take part then sit back and reap the rewards. On top of increasing their physical activity, you'll likely see team building and increased camaraderie as workers train, compete and accomplish goals together.
A quick word of caution: whatever initiative you choose, it's important to remember that a person's size and shape is not a good indicator of health, and health should never be a factor in determining someone's value as an employee. Make sure your offerings are inclusive and optional so your employees feel welcomed, but not pressured, to participate.
Create an Environment Where Well-Rounded Workers Thrive
Full-time employees spend more than a third of their waking hours at work. It only makes sense that the lifestyle benefits we offer help them achieve goals in all areas of their lives. Perhaps the best place to start is at the heart. Literally.
After all, when we take care of our people, and make it easier for them to care for themselves, we'll wind up with healthier, happier, more productive workers. And who doesn't want that?
You may also be interested in reading: