Making sure every employee feels safe and appreciated at work is at the very core of HR's responsibilities. This goal permeates throughout all the daily tasks of hiring, training, conflict management, culture cultivation, benefits management… You know, all the MANY hats an HR professional wears throughout the day. Is it any wonder that many companies leave DEI related tasks to the HR department?
While HR professionals have always had inclusivity as a top priority, it isn't always easy to get the same level of commitment from upper management and the rest of the staff.
DEI has come into sharp focus in the last couple of years. The evidence is showing measurable, bottom-line benefits for companies willing to put in the work. Even more, businesses that don't are at risk to lose talent AND customers in an increasingly socially conscious environment.
What is DEI & Why Does it Matter?
DEI stands for DIVERSITY, EQUITY, INCLUSIVITY.
Most HR professionals are already pretty familiar with DEI. However, how much do you want to guess that the average employee—from the highest executive to the newest hire—hasn't heard the term? Even those who have heard the term likely don't know the depth of history behind it.
So let's break it down a little further with a super-simplified explanation:
Diversity means hiring and welcoming differences in race, gender, sexuality, socioeconomic status, etc.
Equity means leveling the playing field by giving everyone what they need to have the same chance of success, even if that means giving more to those who start out with less.
Inclusion means diverse people are fully part of decision-making and culture.

Why is it so important to bring DEI best practices into the workplace? The tricky thing about asking this question is that you'll likely get many different opinions depending on who's answering. Some might say it's a societal responsibility. Others hesitate to make it a business priority at all.
But if we look to the data instead of people's gut reactions, some interesting trends emerge. First, let's back up and learn a little bit about DEI – past and present.
A History of DEI – From Conception to Renewed Interest
DEI is getting a lot of screen time recently, but the ideas are not new. The civil rights movement in the 1960s (along with resulting equal employment laws and affirmative action) first brought formalized diversity training efforts into the workplace.
At its inception, equal employment laws weren't always embraced by established managers and leaders who were used to holding all the power. Some rebelled against new regulations they perceived as being overly-controlling.
Since then, the ideas around diversity, equity and inclusion have evolved greatly and are still changing.
As described by the Greenlining Institute, the first few decades of DEI focused on enforcing (and getting people to tolerate) new integration rules. The next few decades saw people begin to embrace and even celebrate the accomplishments of minorities. The most recent few decades until today have brought us to the point where businesses recognize a distinct benefit from having a diverse and inclusive workforce.
And that's not the only way DEI has evolved. For example, the definition of diversity has grown beyond race to also include gender, sexual orientation, religious beliefs, country of origin, levels of ability, age and many other factors. Just when some may think the work in one area is done, something happens that makes people question if their efforts are sufficient:
"DEI has always been at the core of HR's purpose," said Lisa Oyler, HR director at Access Perks. "It's sad that it has taken such horrifying, highly publicized events to raise DEI to the forefront of peoples' minds. But now that more people, especially leaders, are feeling the gravity of the situation, and are more open to critique (and discussion), we can make some lasting changes."
So, has the recent dedication from businesses made a difference? Recent statistics suggest that progress has been slow. For example, only 25% of C-Suite positions are currently held by women in large U.S. companies, and there are only 3 black CEOs running Fortune 500 businesses.
What's an HR professional to do? If the question they're encountering is "why do we focus on DEI in the workplace at all?" then other business' successes and failures are showing the answer.
Business Benefits of Prioritizing DEI
Businesses prioritizing DEI are seeing many benefits, both expected and unexpected. Perhaps even more tellingly, those ignoring DEI are seeing increasing backlash both from their employees and their audience.
Statistics are showing that job seekers favor diverse businesses. This is especially prominent among younger generations (you know, those who will dominate the workforce soon). According to Gallup, finding an organization that is diverse and inclusive of all types of people is a very important factor to 61% of employees when considering a job, and that number is even higher (76%) according to Glassdoor. 37% of workers and job seekers said they wouldn't apply to a company that was rated negatively by people of color.
Posting your DEI statement on your website is a good start, but know that people can spot out companies that make DEI promises but do not provide evidence of a diverse and inclusive workplace. These companies are viewed more negatively by minority groups.
Beyond merely improving an employer's ability to compete for top talent, effective inclusion policies have proven to have other benefits too – some with demonstrable positive effects on the bottom line:
10 Tips for Bringing the Whole Company on Board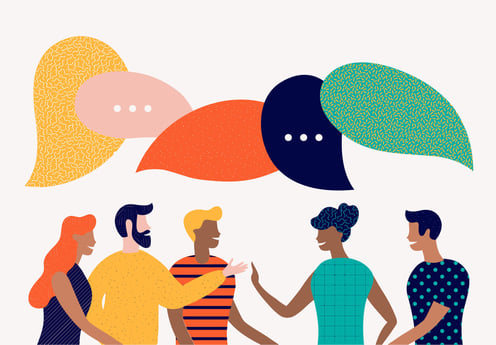 For your corporate DEI policy to yield real results, it cannot remain an "HR initiative" or "one of those yearly trainings to get over with." One commonality among businesses who succeed is that DEI becomes engrained in company culture, something for everyone to keep top of mind in their daily interactions.
"At the end of the day, HR makes up a small percentage of any given company," said Oyler. "We can't possibly do all the work needed to make the workplace safe and welcoming to every employee, at least not alone. It takes a village."
Yet as hard as it is to get whole company buy-in on any one initiative, it's even more difficult when it comes to a topic that only 47% of managers feel prepared to discuss in the first place.
In 2020, there was a rush of pledges by CEOs to ramp up their DEI efforts. Now years later, little measurable progress has been made at many of these corporations. We can learn a thing or two from businesses with actionable strategy initiatives for getting the whole company on board. Here are some strategies that have proven effective at U.S. businesses:
Have dedicated DEI staff.
There's a good reason job titles for dedicated diversity roles have been among the fastest growing in the last few years. It's a specialized task that requires understanding of nuanced information, and with goals that are harder to quantify than, say, a sales goal. These tasks will mostly likely prove to be too time-consuming for an employee to do in the moments between their regular tasks. Some of the things that will help DEI staff be effective include access to employee data, adequate time & budget, and the authority to implement changes and hold difficult conversations.
Have a strategy for working with C-Suite executives, with middle management and with staff.
Employees throughout all levels of leadership have varying levels of influence on a company's DEI strategy.
CEOs and other C-suite executives have the most influence over the employees beneath them… and over public perception of the company. Executives are highly effective when they take a strong public stand AND set the right example by acting on DEI initiatives. Unfortunately, 26% of HR professionals say they struggle to hold management accountable for diversity, equity and inclusion outcomes.
Middle management are often the ones working intimately with employees on a day-to-day basis. Every daily interaction is a chance to advance or diminish DEI efforts. Unfortunately, 42% of workers have reported seeing inconsiderate treatment of a co-worker by management. This can be anything from unintentional micro-aggressions to passive-aggressive favoritism like quiet firing.
General staff tend to follow the example of leadership and respond in kind when company culture supports fairness.
Of course, individuals of differing personalities and management styles could also have varied responses to different types of guidance. You may try one-on-one coaching, team trainings, enforced rules and regulations, or even just lots and lots (and lots) of conversations.
Have a DEI policy (internal) and statement (external).
A DEI statement is for your external audience. It's a social contract that makes promises about how you treat employees and conduct business. A DEI policy, on the other hand, is mostly internal. It's an action plan for bringing your statement to life.
At Access Perks, we publicly display our DEI statement on our jobs listing website. We also have a more extensive internal DEI policy that guides us as a company.
You may not use the exact same terms. The point is that CEOs who have made a public DEI pledge but haven't put that pledge into an actionable policy are getting called out. Businesses everywhere are realizing that promises have to be backed by proper investment in order to yield results.
Give diverse people a seat at the table.
Each employee holds a unique perspective. When those with differing opinions are empowered to have a voice in important company decisions, companies can gain valuable insights that might otherwise be suppressed.
HR professionals and DEI specialists can act as representative for diverse voices too. They are typically familiar with the needs of the business, of employees AND of society. They can be a great resource for blending the needs of all three, and coming up with solutions that infuse DEI into every major decision.
Use DEI best practices during the hiring process.
It's becoming a widely known best practice to leave gender language out of the job listing or other discriminatory language that might cause applicants to self-reject.
Then once the applications start flooding in, it's a good idea to remove personal details from resumes. Even first names have been shown to lead to assumptions about gender, ethnicity, age, etc. In one study, women were up to 46% more likely to be hired when submitting blind applications. Plus, asking for a pay history was shown to lead to more pay disparities among black and women applicants.
In some cases, local laws and regulations will dictate what businesses can and can't do. For example, in "ban the box" states, it is illegal to ask whether an applicant has been convicted of a crime because of the stigmas and racial disparities associated with arrest records.
Extend DEI principles to your employee benefits.
Employee benefits are a major factor in recruitment and retention, especially among diverse and protected groups. Therefore, selecting and promoting inclusive employee benefits is an important piece of any DEI strategy. Some inclusive perks that are popular right now include floating holidays (for those who honor holidays that are not typically federal days off), family leave (that includes leave for fathers as well as adoptive and foster parents) and healthcare that covers diversity-friendly providers.

Address microaggressions.
There are a lot of misconceptions about what microaggressions are, making them hard to identify and address. The discussion is bigger than a small section of this article. Here is an article with a good basic overview. At a high level, microaggressions are insensitivities due to people not knowing the deep racial and group histories behind certain comments and actions. Even though they are overwhelmingly unintentional, and often even meant to be complimentary, microaggressions are still hurtful because of the stereotypes they perpetuate.
Outside specialists might be helpful if no internal employee feels qualified for the task. For example, specialized training can help educate people on behaviors to watch out for. Guided conversations can help people feel comfortable sharing their needs and help them feel understood. Having diverse people work together can help them develop trust in their co-workers.
One place to watch for implicit bias is in performance reviews. That's because some studies have shown they can be rife with bias AND have a profound effect on who gets promoted and who doesn't.
Invest in technology aids.
There are many ways technology can aid your DEI efforts. Firstly, technology for remote work opens the talent pool and allows for greater diversity of workforce even in communities where diversity is low. These same programs give flexibility to those who are also juggling caregiving or parenting responsibilities. And technology can provide an equitable workplace to those with disabilities or neurodiversity and give them the tools they need to perform at the highest levels.
New to the scene are AI programs that can remove human bias from hiring and promoting decisions.
Recognize that you don't know what you don't know.
"When it comes to DEI, there's always something new to learn," Oyler advises. "Keep your ears open. Listen to what your employees are concerned about; listen to what other companies are trying; listen to the news and social movements. Those who are most affected by inequality are communicating the changes they want to see most."
The State of DEI Today. How Do You Compare?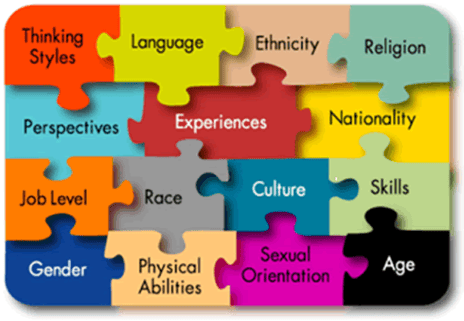 With so much focus on DEI in the last few years, many businesses are willing to share their successes and failures with the world. How are businesses measuring up?
On the positive side, there is a lot of enthusiasm for change and optimism for the future. Nearly 2,000 CEOs have signed the CEO Action for Diversity and Inclusion pledge. Businesses are implementing real changes too: 57% of U.S. employers say they have updated their recruitment strategies to build a more diverse workforce and globally, the number of job titles dedicated to diversity and inclusion have risen 71% in 5 years. Because of this, 91% of workers believing the DEI efforts have had a significant impact on the workplace.
But what might be standing between you and the business benefits that result from effective DEI efforts?
Among HR and DEI professionals, 81% said DEI efforts have been beneficial to their organization, but only 34% reported having enough resources to support those initiatives. Unfortunately, many are saying that while we saw a surge of pledges during the tumultuous summer of 2020, we've seen fewer take meaningful action since then. 30% of companies reported they don't have any form of D&I strategy at all.
The consequences for having lackluster or zero DEI results are compounding in recent years. 47% of Black and 49% of Hispanic employees have quit a job after witnessing or experiencing discrimination at work, which is significantly higher than white (38%) employees. This is especially concerning since 61% of American workers have experienced or witnessed discrimination in the workplace, 45% with age discrimination, 42% with sex or race discrimination and 67% with LGBTQ+ discrimination.
"Every company should ask: How do we measure up?" said Oyler. "Take stock of your efforts and keep in mind that no matter how far ahead of the pack you may feel you are, there's never a moment to rest on your laurels when it comes to DEI."