Everybody loves payday. Especially after a raise.
In recent years, earnings have climbed 2-3.5% each year on average. But in many instances, that extra income is eaten up straight out of the gate by higher prices for food and other necessities.
Even worse, housing and healthcare costs have both risen roughly two times as fast as wages.
As a result, many employees have experienced decreases in their take-home pay and discretionary income over the last decade despite earning a higher salary. And it's affecting the way they live and shop.
For example, data suggests that nearly half (49%) of consumers make sacrifices and look for deals just to make ends meet. Yet, they continue to look to their employers to solve many of their financial woes.
"It's not inconceivable that employees will come to expect financial wellness benefits the same way they've come to expect health insurance and retirement savings accounts," says Matt Bahl, vice president financial wellness strategies at Prudential.

"Increasingly, individuals need a broader set of tools and solutions that aren't just focused on retirement savings, but also the day-to-day money challenges that get in the way of financial fitness."
So, employers are getting creative. They're strengthening the financial wellness arm of their employee benefits package with perks like tuition reimbursement, student loan repayment, vacation stipends, childcare, health savings accounts and employee discount programs. The good news is, when compared with other benefits, perks like these cost very little and often return huge dividends through employee engagement. As long as they're the right ones.
If you're one of the many employers considering boosting your financial benefits with an employee discount program, you're in the right place. Particularly if you're digging deeper to uncover WHICH employee deals are the best ones.
Coupon Usage is On The Rise
Research says that a whopping 85% of Americans use coupons to make purchases.
And if you suppose discounts don't appeal to the high earners in your organization, think again. One study found that 86% of consumers with annual household earnings over $200,000 said they look for deals before making a purchase. That number fell right in line with consumers in other income brackets. 85% of consumers with reported annual earnings between $100,000 and $149,000 said they search for discounts and 87% of those earning $20,000 - $39,000 annually said they do the same.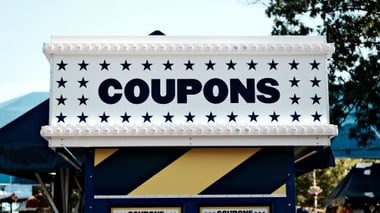 On top of the obvious need to save money, many shop with discounts because it feels good. In one survey, 40% of respondents reported feeling smarter when they find a great price.
It's why discounts are the foundation of most loyalty programs.
Many businesses host their own rewards program but those don't typically save consumers as much on the front end of the transaction like a coupon or discount code will. Instead, when hoping to save, more people (79%) turn to loyalty and reward programs over anything else.
And yet, is there a better place to encourage loyalty than to one's employer?
Discounts Encourage Employee Loyalty
With discretionary income trending downward and the hunt for deals on the upswing, it's no surprise that employee discount programs are growing in popularity.
It's an inexpensive benefit that helps employees in all areas of their lives. Not only do they save money on everyday purchases like food, oil changes, haircuts, etc., but stretching their paycheck allows them to travel and bring other, otherwise unaffordable, experiences within their reach.
And when those positive experiences are linked directly to their employer, loyalty-inducing emotions like satisfaction, happiness and gratitude result.
But I'm not here to explain WHY discount programs make a great employee benefit. The numbers tell that story all on their own. (If you'd like, you can read more about it here: Why Employee Discount Programs Work: From One HR Professional to Another.)
The point of this article is to determine WHICH DISCOUNTS are worth offering. After all, a benefit is a lot more valuable when employees actually use it.
What Discounts Do Employees Want?
When it comes to savings, bigger is obviously better. Deals that save employees 30% or more are far more motivating than those that save 5-10%. But aside from deep discounts, what other characteristics make a great discount program for employees?
The best employee discount programs are the ones that match employee shopping habits.
As a discount provider, we've studied consumer spending patterns inside and out. Here are a few insights we've uncovered.
1. Categories matter. The number of deals your employee discount program offers isn't always as important as their relevance. How closely do the deals match their needs? For starters, a huge chunk of spending in most households goes toward food.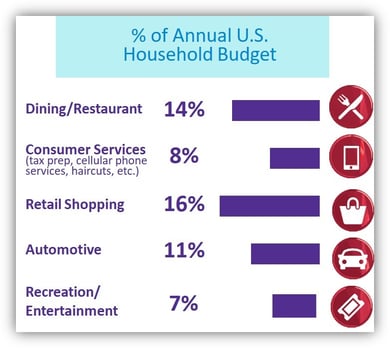 On average, Americans eat out 4.2 times a week, or a little over 18 times per month. According to the Bureau of Labor Statistics, the average American spends $232 per month, or $2,784 per year to eat commercially prepared food outside the home. High income individuals (in the top 20% income bracket) will spend a up to $6,510 per year on commercially prepared food.
Consequently, restaurant coupons are a big deal in discount programs. In addition, consumers spend a good portion of their paycheck at retail stores on items such as clothing and home goods. Discounts in relevant categories like these are much more likely to be used and appreciated by employees.
2.

Consumers shop in-store.
Online shopping is inarguably growing fast, but consumers still spend almost 90% of their disposable income at
brick and mortar stores
, according to the
U.S. Census
. When we look a little closer at online shopping, Amazon accounts for
roughly 50%
of all ecommerce. Super retailers like Walmart, Apple, Home Depot, Best Buy, Macys, QVC and eBay scoop up another 20% of online purchases. Most of these corporate giants don't play in the discount space simply because they don't have to. They generate enough volume on their own.

That leaves about 3% of retail purchases for all other online shopping. While online discounts are often easier to come by, they typically aren't as beneficial as in-store coupons. In fact, for 97% of purchases, they're simply irrelevant. Discount programs with in-store offers will be far more pertinent and usable.
3.

Geography is critical.
According to a
recent national study
, consumers will only travel about 10 minutes from home for purchases they make
more than once per week
such as groceries, fuel, fast food or to workout at a gym. If your employee discount program isn't robust enough to contain locations near your workers' homes, chances are, they won't get much out of the deals. And if they don't use them, you'll miss a huge employee engagement opportunity.
For some types of purchases, you can get away with having discount offers a little further away. The average consumer will travel a slightly greater distance (typically no more than 20 minutes) for weekly or monthly purchases like oil changes, haircuts and apparel.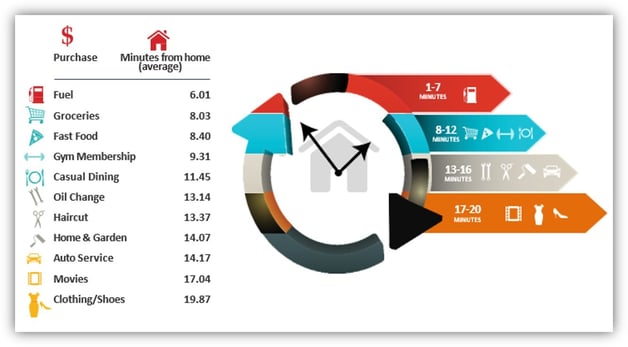 The bottom line is that discounts will be significantly more beneficial for employees when they're close to where they live and work.
Offer Discounts That Mean Something
Deciding to implement any new employee benefit requires time and diligence to make sure it's the right one for your people. Employee discount programs are no different. At the end of the day, it's about providing your employees with something extra. Benefits should reward employees for choosing to work hard for your organization, especially given how competitive the fight for talented workers has become.
And when you consider the outrageous prices many employees are now paying for health insurance, it makes sense that they want benefits that offer something more. Something unique. Something exclusive.
Any ol' discount won't do the trick. Employees need deals in their neighborhood, in relevant categories, that are easy to use and deliver real value.
For a more in-depth look, you may want to read our article 10 Critical Questions to Ask Before You Buy an Employee Discount Program.