My, how things can change.
Just a couple years ago, unemployment dropped so low it hovered 1-2% below what the Federal Reserve considers the "natural rate" of unemployment. With more open jobs than workers to fill them, it spurred the tightest war for talent our country had ever seen. The battle forced employers to think outside the box to attract and retain their finest.
And since salaries can only go so high, for many organizations, it boiled down to employee perks / lifestyle benefits.
In fact, many experts refer to it as the "Employee Benefits Boom."
Tech giants in Silicon Valley led the way with innovative, one-of-a-kind perks like on-site dry cleaning, bring-your-pet-to-work policies, in-house professional massages and never-ending snacks. In turn they attracted the best and brightest minds and reaped the rewards of unparalleled employee engagement.
Companies everywhere caught wind and recognized the huge return they could earn by spicing up their employee benefits packages with high-quality perks.
And then COVID became a thing.
Businesses everywhere quickly adapted to meet demands of the new conditions brought on by a worldwide pandemic. It impacted everything from the bottom to the top, including employee benefits.
How Has COVID-19 Impacted Employee Benefits?
Businesses all over have struggled to trudge forward in a climate of distress and uncertainty. They're trimming expenses wherever possible, and workers are feeling it.
The national unemployment rate shot from record lows to an all-time high in April 2020 when jobless claims topped 23 million. And those workers fortunate enough to hang onto their job began relying on their benefits more than ever before.
Unemployment rates dropped all through 2021 and 2022, despite inflation. However, many continue to watch their paychecks decrease as inflation raises the prices for common food staples, housing and other essentials. Even as the economy rebounds, recovery has been uneven. Parents and caregivers have been hit particularly hard as many medical offices, schools and other services have cut back or completely closed in an effort to prevent further spread of the virus. Hospitality brands and restaurants in particular struggle to attract the employees they need to reopen.
So how does that impact employee benefits?
For starters, they're certainly no less important than they were last year at this time. Instead, it's absolutely essential to make sure businesses have the right ones. We won't be surprised if many employers cut some benefits in 2022 to create space for more impactful perks.
Read: How To Remove An Employee Benefit and Avoid Mutiny.
In 2022, organizations will focus on benefits that meet both immediate and long-term needs of their most vital workers. Because now is not the time to worry about training new staff members.
What's In the 2022 Employee Benefits Forecast?
The most popular employee benefits in 2022 will undoubtedly boil down to two categories: financial wellness and flexibility.
While quirky perks grew in popularity over the last few years, the pandemic has a way of bringing focus back to the basics. People work for money. We all work to provide a life for ourselves and our families. We work for stability. And that's what benefits will reflect this next year.
Financial Wellness Benefits - Why They Matter
At the end of the day, it really is about a paycheck. It only makes sense that employees look to their employers to secure their financial stability in other ways as well. And while stretching take-home pay has always been important, it is even more of a requirement in times of uncertainty.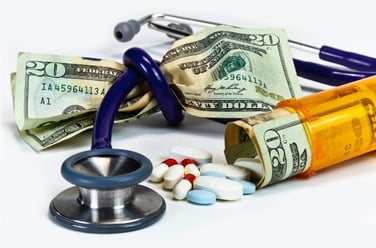 Over the last decade, many employees were already watching their discretionary income erode thanks in large part to skyrocketing housing prices and climbing healthcare costs.
Inflation, supply chain issues and other factors in 2021 accelerated this with a 33% increase to the price of essentials including common food staples like beef, wheat and oil.
And now, they're literally watching those numbers descend as organizations struggle to weather the storm. So, when money is tight, stretching what they do have is crucial.
Here are 4 benefits to that help support employees' financial wellness.
4 Popular Financial Wellness Benefits
Employee discount programs – You may not be able to pay your employees more, but the good news is, there are other ways to put money back in their wallets. The best employee discount programs save employees money on their everyday expenses. These programs, like Access Perks, help employees save at restaurants, grocery stores, auto mechanics and even on travel expenses. And when they're easy to use, like with a convenient mobile app, the savings really start to add up.
Retirement savings plans – Many organizations have opted to dial back or even completely eliminate company matches for 401(k) plans. It's understandable with the huge impact of the pandemic. But if it's feasible for your company, I can't think of a better way to stand out during these tough times than by continuing to offer a retirement savings match. And if a 401(k) match isn't right for your organization, consider one-time bonuses or other creative ways to encourage them to save for retirement. It gives employees the sense of security they need to remember their future is safe with you.
Financial advisors – Chances are, every employee in your office has had financial changes in one way or another in 2021. Arranging for financial advisors to visit in group or one-on-one settings may be just what your need to bring some peace of mind. At Access, we have advisors that come in every month or so to meet with employees and answer their questions. If it's not in your budget to bring in professionals, there may be other ways to do it. You could ask your CFO to share some of his/her knowledge or coordinate roundtables so employees can learn from one another.
Student debt support – Many of today's workers, especially millennials, are buried in debt from obtaining a college degree. Whether employers help on the front end with tuition reimbursement, or after the fact with student loan repayment, these benefits are often game-changers. And organizations usually experience a high ROI as they reward their highly educated employees and entice them to stay.
Flexibility Benefits - Why They Matter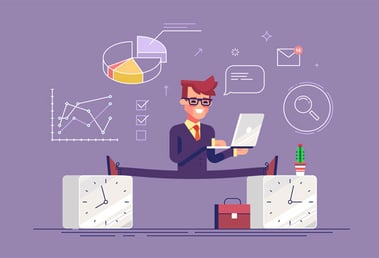 Flexibility in the workplace was already important to employees pre-coronavirus. This was especially the case for workers who are also parents. Even before governments issued work-from-home orders this spring, 46% of parent employees said they wanted flexibility from their employer. But with current conditions, and now that many have tasted of working remotely, 86% say they want to keep flexibility in their job.
Many managers worry that flexible work arrangements will reduce team cohesiveness and employee productivity. But "flexible" doesn't have to mean the same thing for every organization. Here are a few ways to give employees the options they want.
4 Popular Flexibility Benefits
Financial Wellness, Flexibility and Focus
After years like 2020 and 2021, many of us are hoping for an uneventful 2022. In the world of employee benefits, that means organizations will likely simplify and focus more on what really matters. This is true for employee benefits as much as it is for other parts of daily life.
Unique (and sometimes bizarre) benefits won't go away forever, but in 2022 it's likely that organizations will choose to reign in their spending and provide benefits that take care of employees' basic needs.
For more information, check out our article 3 Ways To Promote Work-Life Balance or our infographic 5 Reasons Every Company Should Invest in Financial Wellness Benefits.