For accountants it's tax season. For retailers, Black Friday. While Human Resource professionals spend all year preparing for, muddling through and recovering from Open Enrollment.
And guess what folks? It's that time again.
If you work in HR, you're probably hard at work vetting out benefits and negotiating rates. To ease the pain, we at Access Perks are offering a special deal through the remainder of the season: one month of Access Perks for your organization for free. Get the details below.
[Spoiler Alert] Benefits are a Big Deal to Employees
HR pros know that open enrollment is a great time to take the pulse of employee engagement levels in your organization. After all, engaged employees lead to greater customer satisfaction and increased profitability.
Research shows a direct link between employee benefits and their engagement and loyalty to their job. One study in particular found that 8 out of 10 employees who ranked their benefits satisfaction as extremely or very high also ranked job satisfaction as extremely or very high. And a recent Willis Towers Watson survey revealed that 78% of workers would likely remain with their employer because of the benefits it offers.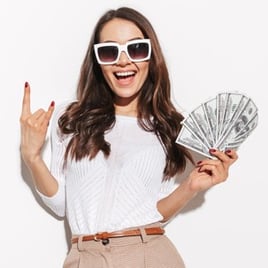 So clearly, the benefits you introduce at the beginning of each year are a HUGE deal.
Unfortunately, many employers find themselves having to break the news of health insurance rate increases each open enrollment. So, the timing couldn't be better to roll out other (more fun) perks.
And what perk could be better than one that puts more of your workers' hard-earned paychecks back in their wallet?
That's what Access Perks is all about.
Helping your employees experience more.
What is Access Perks and Why Do I Need It?
Access Perks is an employee discount program that saves your workers money at over 700,000 businesses across the country. There's something for everyone with savings in all the nooks and crannies of your community. They'll save at local restaurants, auto shops, dry cleaners, hair salons and more – the places where they spend money every day. Plus, you'll be able to bring their dream vacations within reach with Access Perks discounts at theme parks, car rentals and hotels across the globe.
And unlike health insurance, it doesn't cost an arm and a leg. In fact, most businesses provide Access Perks to their employees for no more than they'd spend buying them a candy bar each month.
What other perk has that kind of impact and costs so little?
And believe it or not, it gets better. In the spirit of the open enrollment season, qualifying organizations will receive their first month FREE for their entire organization. Fill out the short form below and we'll be in touch soon to answer your questions or get you started.
In the meantime, you may want to check out our eBook: The Ultimate Guide to Employee Discount Programs or read the article: Employee Discount Programs Revealed: 10 Critical Questions to Ask Before You Buy.
SUBMIT YOUR REQUEST FOR A FREE MONTH
(OFFER ENDS 12/31/2019)