Whoa, that's a lot of buzz words in one headline, isn't it? Most HR professionals are already familiar with any number of these concepts. But in case you could stand a refresher, here's a quick rundown with links to articles which go deeper into each subject:
Lifestyle benefits are a type of employee perk that is growing in popularity. They are defined as perks that support an employee's personal goals outside the workplace (for instance: financial, health or education goals). You can learn more about them in this Ultimate Guide to Lifestyle Benefits.
DEI stands for Diversity, Equity and Inclusion. Making sure employees feel safe and included in the workplace is at the heart of an HR professional's job. This is a topic we will be covering further in our next article, which includes a discussion of how to get your company on board.
And, of course, employee discount programs are our jam here at Access Perks and we love talking about them. The best employee discount programs help employees save on everyday expenses in the stores and restaurants where they live (you know, the places they spend their money anyway). Here are a few of our favorite recent articles about the topic of employee discount programs: Why Discount Programs Work from One HR Professional to Another and 10 Critical Questions to Ask Before you Buy.
Phew. Got the background you need? Good. Now let's examine how these topics relate to each other.
How Lifestyle Benefits Fit into a DEI Strategy
DEI touches every aspect of a person's job. Even if no one else in the company does, HR professionals keep DEI policies top of mind all throughout the hiring process, through employee reviews, through daily breakroom interactions and beyond. Therefore, it wouldn't make sense to forget about DEI when it comes to compensation and employee benefits. 53% of HR professionals say offering benefits that appeal to a diverse workforce with differing preferences is a top challenge in recent years.
In fact, many companies have proved in recent years that employee benefits are an excellent place to reinforce inclusivity. A diverse range of lifestyle benefits that help employees accomplish their most important personal goals can help every person feel seen and appreciated. They support each other.
Most people can agree that having inclusive employee benefits is important, but how can you tell the difference?
What Makes an Employee Benefit "Exclusive"?
By definition, exclusive employee benefits only serve a select group of people. These benefits might be exclusive by design. For example, some benefits may be reserved for upper management or for those who meet aggressive sales goals. Other benefits naturally exclude large percentages of employees because they are only relevant to people experiencing certain life events.
Exclusive benefits have their place. They're wildly popular among those who can use them. Plus, they're wildly motivating when used as a reward for performance. And really, can you expect to find a single benefit that is perfectly appealing to every single person on the planet?
Problems only arise when all your benefits serve the same group of people, leaving some of your employees with many relevant benefits to enjoy, while others have few or none. In essence, a diverse selection of exclusive benefits could create a beautifully inclusive benefit package.
What Makes an Employee Benefit "Inclusive"?
Inclusive benefits are available AND relevant to all employees. There are multiple ways a benefit might accomplish being relevant to a diverse workforce with diverse needs and wants.
One sign of an inclusive employee benefit is the freedom of choice. This means instead of giving the same thing to everyone, each employee can choose between a number of options the one that best suites their individual needs. The more limits there are on the ways a benefit can be enjoyed, the more limit its audience will be. Stipends are an example of a benefit with choice built in. If you offer a health and wellness stipend, for example, each employee can support their own health in the way that makes the most sense to them, be it through gym passes, massages or counseling.
Many times, a benefit can be made more inclusive by expanding the ways it can be used so it's relevant to more types of people. For example, maternity leave is exclusively for women who recently birthed a child. Instead, a company could offer an array of family building benefits including leave for new fathers, for adoption or fostering, and benefits for infertility treatments. That most likely covers a lot more employees, and a wider range of employees in your company.
Sometimes an employee benefit is inclusive because it supports equity (the E in DEI) within the business. Equity promotes justice and fairness with the goal of giving every employee an equal chance to succeed. That sometimes means giving more help to those who start out with less (for an illustration of this point, check out the graphic from the DEI Extension website). Therefore, equitable benefits can sometimes look like exclusivity, since one group is helped more than others. However, employee benefits that support equity are most relevant to protected groups, giving them the same chance to succeed as less vulnerable employees.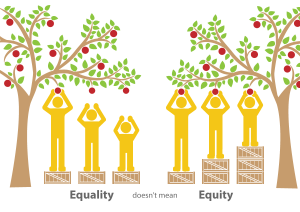 Image from https://dei.extension.org/
How to Design an Inclusive Employee Benefits Package
Designing an inclusive employee benefits package doesn't have to be complicated because most people are willing to tell you exactly what benefits they want.
"As an HR representative, I feel like it's important to constantly have one ear to the ground," said Lisa Oyler, HR Director at Access Perks. "The needs of the workforce constantly and rapidly change. Those who actively seek input can use it to anticipate needs – and offer the benefits that will help them stand out in a crowd."
The first place to look is among your current workforce. Formal surveys can bring a wealth of information, but so can simple conversations during check-ins, exit interviews, etc. You can find a list of questions to ask that will yield useful information in this article.
Next, it's also important to plan (and compete) for the workforce you may have in the future. Inclusive companies are very desirable to potential employees and will help with recruitment efforts. 61% of job seekers prioritize finding a workplace that is diverse and inclusive of all types of people. Expanding the diversity of your benefits helps to expand the pool of talented employees who would be interested in working for you, which can give you an edge during a challenging hiring environment.
Finally, you'll want to keep an eye on current events and legislation that could affect employee (and future employee) sentiment. These can have a huge and immediate impact on employees—most often those with protected status. Many recent events have fueled an immediate emotional impact on employees. For example, when Roe v Wade was overturned, businesses who reacted swiftly sent a strong message to their employees by offering stipends to those needing to cross state lines for legal abortions. You can be nimbler in an emotionally charged situation if you already have inclusive benefits or have done the research.
"Pre-pandemic, it was standard practice to slowly introduce little changes to employee benefits," said Oyler. "Now it seems like every business is racing just to keep up and stay competitive."
Examples of Popular Inclusive Employee Benefits
After analyzing your employee benefits, have you found some areas that need bolstering? Fortunately most employers don't HAVE to start from scratch. When it comes to choosing specific employee lifestyle perks, a good place to start is with the success of other businesses. Below is a list of inclusive perks that are popular right now.
Flexibility – The pandemic lockdown forced many companies to offer flexibility in scheduling and workplace at the drop of a hat – and then scramble to put the processes in place afterwards. Now that employees have had a taste of that freedom (and are intimately familiar with the tools that make it possible), many are not in a hurry to give it up.
Flexible scheduling and remote work options allow people to style their workday around their own unique needs. For example, parents can be present for ballet performances, caregivers can be available to schedule crucial appointments, etc. People want flexibility, even just for the benefit of being allowed to work in the manner that they are most productive. 63% of employees said flexibility helps them feel more empowered.
Floating Holidays – Even if your company offers paid holidays, many are dictated as federally recognized holidays. For some employees, they don't include the holidays that are culturally, religiously or ethnically relevant to them. Floating holidays allow employees to choose their time off so they can honor important days, even if those differ from their co-workers.
Family Leave – The US has long been criticized by countries with government sponsored (and tax-paid) parental leave. When families are allowed ample time to heal and bond after welcoming a baby, they experience many physical and mental benefits. Yet, the cost of offering this leave is left to each business. Even if you are one of the companies offering maternity leave, people want more. You may consider expanding this benefit to include more people by adding paternity leave, leave for adoption or fostering and family building benefits.
Diversity Friendly Healthcare – Healthcare is clearly the granddaddy (or grandmommy) of all workplace benefits. It's the most requested, and most offered, benefit among U.S. employers. Even so, many businesses have not fully considered how their group health insurance plans truly represent the diversity of 'the group' to ensure it is fully, fairly and adequately covered. Here are some questions to ask: Are domestic partners able to be added to an employee's healthcare plan? Does your healthcare cover providers who are LGBTQ+ friendly and understand the physical and cultural needs of diverse people? Does the healthcare plan cover gender-affirming services? Are there sufficient providers within reasonable distance of your employees' homes, even those in traditionally underserved areas? Are there virtual healthcare options available?
Wellness benefits – While it's true that most people want benefits that support physical and mental wellness, the specifics can look very different person to person. "Health" doesn't necessarily equal time at the gym for everyone. Therefore, having a wide selection of health and wellness benefits allows people to choose the ones that best fit their unique health conditions and lifestyle choices.
Financial services and education – Your employees may all be in different stages of their financial journey, but all are dealing with money issues. From paying off debt to investing for retirement to stretching their daily budgets (i.e., money-saving discounts), there are many areas where employees can use your help. This is especially true during a time when inflation, education debt, competing caregiving responsibilities and other financial challenges unequally affect some of the world's most vulnerable communities.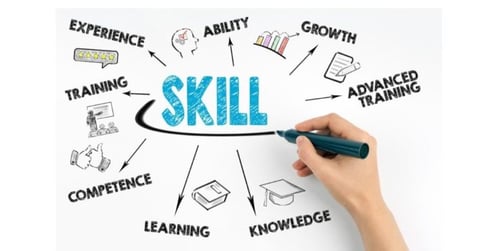 Professional Development – As the world changes, so do the skills requirements at your workplace. Add in the great reshuffle and you have businesses everywhere searching for ways to ways to retain the talent they have. Helping your employees reskill, upskill or even just "skill" can make a big difference with recruitment and retention efforts. How? It opens your talent pool to include those who want to advance but may lack the resources to pay for formal training on their own.
Your unique workforce and needs will dictate which inclusive benefits will have the biggest impact. But our favorite inclusive benefit to talk about is employee discount programs.
Discount Programs: A Popular and Inclusive Benefit for Employees
Discount programs are a great example of an inclusive employee benefit. Or even more specifically, the right discount program can be a truly inclusive lifestyle benefit.
When inclusivity is part of the goal, you may have to do some extra vetting in order to choose one that will serve every employee (and potential employees too). After all, discount programs are not created equal. To determine if a discount program will serve diverse needs, remember that it will need to be these two things: relevant and accessible.
Inclusive Employee Discounts Need to be Relevant:
The type of discounts that are relevant to employees may vary between businesses AND vary based on economic climate. However, there are some programs that are almost universally relevant: those that focus on everyday purchases (e.g. discounts on the basics that people have to buy anyway) and those with a wide variety of discounts.
More and more people are searching for deals and coupons before spending money. This includes those in higher income brackets: 79% of affluent consumers seek out discounts before planning shopping trips. Plus, growing inflation, job insecurity and other financial concerns have made it harder for the average American family to afford the basics. Therefore, it's the discounts on everyday essentials that are the most relevant right now: food, clothing, fuel, car maintenance, travel costs, etc.
Beyond that, in order to be relevant, your discounts should meet people where they already shop. For example, only 10% of discretionary income is spent online (and only 3% at online retailers who are NOT Amazon, Walmart and a few other big names). Plus, with gas prices being what they are, studies show that most people refuse to drive more than 10 minutes for their routine purchases. That means nearby, in-store (i.e., local) discounts matter.
Here's a quick peek behind the curtain: Access Perks became America's largest employee discount network by partnering with businesses large and small throughout the entire U.S. Not only does Access Perks hold direct relationships with over 1 million locations, the discounts are spread throughout every metropolitan AND micropolitan area nationwide. That means there are meaningful discounts within reasonable distance of 99.6% of the U.S. population, i.e. your employees. Not only that, these direct relationships also allow us to negotiate high-value (often 50% off or more) discounts on a rich variety of everyday purchases from food and clothing to travel and automotive services.
When a discount program is able to combine all these elements:
Local & in-store discounts, with options near everyone
High-value discounts they can't get anywhere else
A variety of categories that cover the basic necessities (and a bit of fun)
It can achieve tremendous inclusion across a myriad of demographics:
All genders, races, ages, socio-economic statuses…
All working conditions: fully remote, in-office, hybrid, full time, part time…
Employees as they hit many of life's milestones
Inclusive Employee Discounts Need to be Accessible:
While relevance speaks to whether an employee would WANT to use a discount, accessibility speaks to whether they CAN use it.
Discounts that are financially accessible help make purchases more affordable. For some deals, this could take the sting out of paying for basics people will have to buy anyway. For other deals, this could mean taking something that would otherwise be out-of-budget and making it affordable. The key word here is affordable, because while deals on luxury items are great fun, they are no good if even the discounted price is out of your employees' budgets. A focus on everyday discounts with fewer luxury discounts thrown in for fun makes a well-balanced program.
Discounts are geographically accessible when every employee has an in-store location within reasonable distance of their home. Some discount programs only focus on big cities, excluding those who live in less populated areas. Others only offer discounts that can be redeemed online, which may seem accessible – and yet statistics show that people spend 86% of their discretionary income in-store. So to be truly inclusive, online programs simply won't cut it.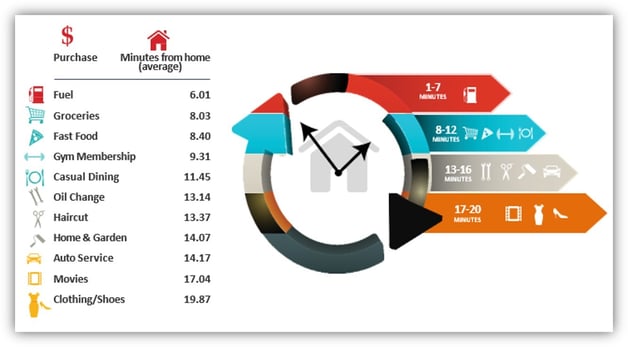 Discounts that are accessible by platform give your employees the power to choose their method of redemption. Some prefer online discount codes, others printable coupons and many more desire app-based show-your-phone coupons. Even cash-back rewards in place of up-front discounts are becoming popular in select industries.
How to Partner with a Discount Program That Supports your DEI Strategy
There are a lot of excellent options for corporate discount programs. Finding the right discount program provider to partner with is already a complex process with lots of considerations. Learn 10 questions to ask before you partner here. And then add in these extra tips to make sure their discounts will also support your DEI strategy:
Ask to see their company DEI policy. If the provider prioritizes DEI within its own walls, it will probably be reflected in the discounts too.
Compare their discounts to your demographics. If you already know beforehand what kinds of deals your employees want, it'll be one simple step to make sure every one of your employees (and potential employees) is represented.
Ask if they're open to diversifying on your behalf. For example, if a group of employees live in a less populated area where there are few in-store discounts, will they try to sign the businesses your employees request?
From its conception, the goal of Access Perks has been to create a win-win-win situation between employers, employees and merchants. How? Merchants get to attract a new audience, employers get to be the hero to employees (and enjoy the loyalty that results)… And employees win by saving money.
"DEI has always been at the heart of how Access Perks interacts with employees," said Oyler. "And while DEI may not have been the main goal our founder envisioned when first building America's largest employee discount network, the product naturally grew around the idea of inclusivity."
Learn how you can partner with Access Perks, a corporate discount program provider dedicated to providing inclusive discounts that are: local, in-store, high-value and relevant at restaurants, shops, travel providers and more representing 99% of U.S. zip codes.